Chongqing News
High-heeled Shoes Run held
2020-11-17 10:12:09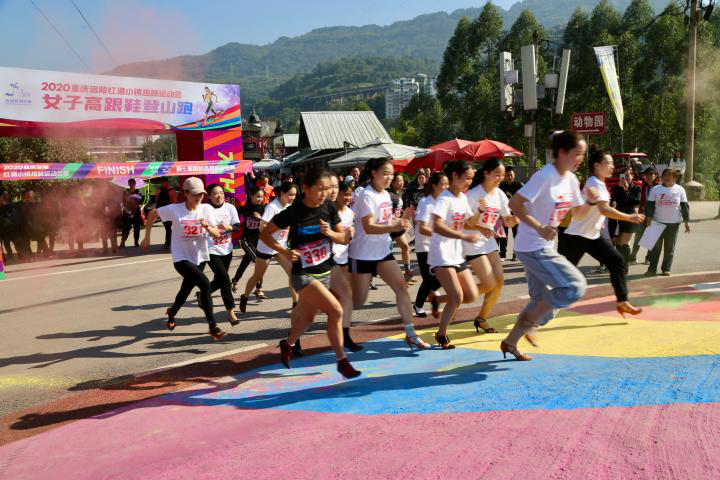 CHONGQING (CQNEWS) -- Last weekend, the 7th High-heels Color Run officially started in Fuling Meixin Red Wine Town Scenic Area. The male and female contestants carrying drag umbrellas, or wearing flowerpot shoes, or wearing high-heeled shoes over 7cm galloping on the track, attracted the audience to laugh, and the scene was very lively.
According to the Organizing Committee, this competition has undergone a lot of upgrades compared to previous competitions. For example, the rainbow S-shaped net celebrity road for women's mountaineering has been newly painted and turned into the most beautiful rainbow track; in addition, the national fitness color race schedule has increased to about 3km. There were also new events such as the 100-meter flowerpot shoe race, the 100-meter high-heel bikini run, and the Queen of Legs Selection.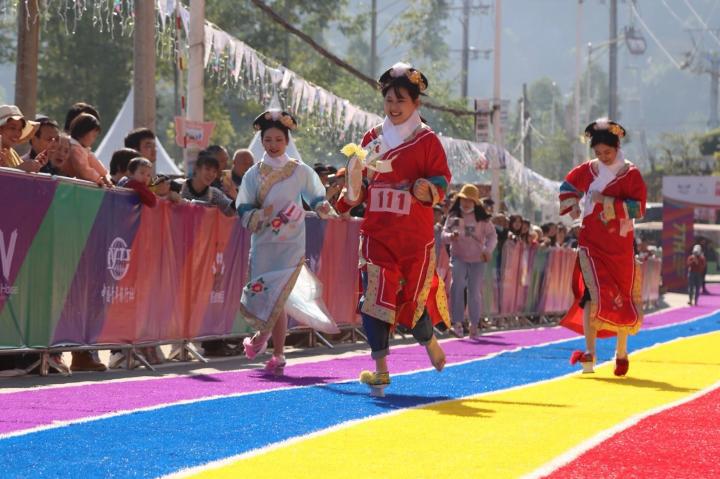 In order to meet the needs of runners who are not willing to wear high heels in group competitions to experience the fun of running, the organizing committee has also added NPC big players, peacock running, national fitness color running and other fun programs for the people. As long as tourists put on fancy outfits, they can take part in races and carnivals with colored powder prepared in the scenic area, and experience the fun of rainbow running.
"Compared with the marathon races that you participate in as usual, High-heels Color Run is more interesting and fun." Zhao Fuming, a junior from Changjiang Normal University, said that this kind of fun competition was suitable for all people to participate. Not only did everyone exercise their bodies, he also reaped the joy, and he specifically pushed off a professional marathon to participate in the competition. In the resistance race that day, he achieved good results in the first place.
The event also attracted many visitors to participate in the field. "I usually sit in the office and feel that I lack exercise. I want to come out for activities in the rare good weather on weekends. I am very happy to participate in competitions and win prizes while playing," Ms. Xie, who participated in the flower pot run, said.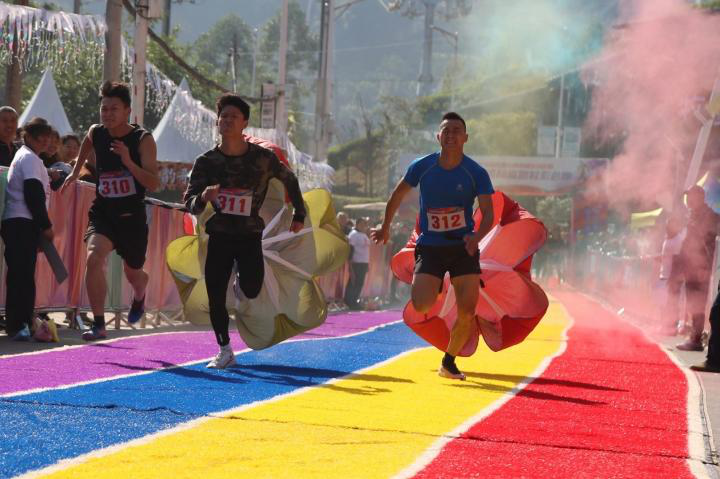 (Translated by Luo Juan, Fathom Language Limited)
Editor:Jiang Yiwei