Chongqing News
Construction of Chongqing Longxing Football Field
2020-11-19 10:24:19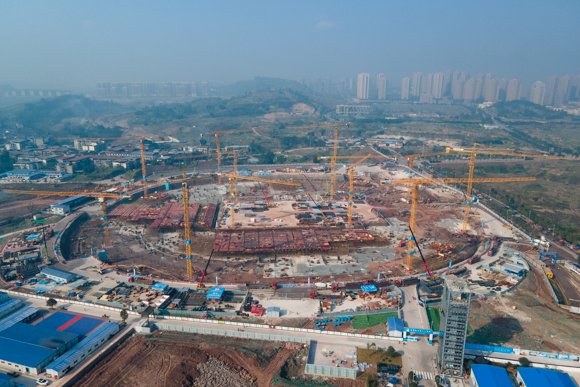 CHONGQING (CQNEWS) -- As one venue of the 2023 AFC Asian Cup, Chongqing Longxing Football Field Project is making progress. What are the highlights?
The construction of the basement is expected to be completed by the end of the year, to provide 2,400 parking spaces in the future
The Chongqing Longxing Football Field project is located in Longshengxincheng, Liangjiang New Area. It covers an area of about 303 mu and is equipped with multiple functional areas such as competition area, media and broadcasting area, commercial operation area, and audience area.
Twelve tower cranes have been erected from the ground, workers and excavators were busy with construction, forming a busy scene.
"At present, Longxing Football Field has entered the construction of the main structure of the basement." Hu Qingyun, Head of the Chongqing Longxing Football Field project of China Construction Eighth Engineering Division Co., Ltd, introduced that since entering the stadium at the end of April this year, they have invested more than 50 excavators, bulldozers, and 200 vehicles. Muck truck construction is currently under construction for the basement structure.
According to Hu Qingyun, the basement construction includes parking lots, equipment rooms, etc. Through design optimization, they completed 600 shallow pile foundation projects for the basement within 30 days. The first top slab of the basement will be poured within this week. The basement construction is expected to be completed by the end of this year. It will be completed, and with ground parking spaces, 2400 parking spaces will be available here in the future.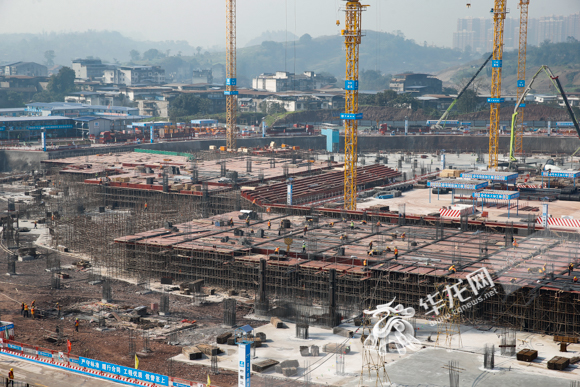 The sunken football field gives viewers a better view and creates the largest single stand in China
As the first professional football field built in Chongqing, Chongqing Longxing Football Field also has many highlights in its design. According to Hu Qingyun, the field is surrounded by the grandstand area. Because it is a professional football stadium, there will be no circular runway. The stadium and the grandstand area are adjacent to each other. When completed, it will be able to accommodate 60,000 people to watch the game.
At the same time, Chongqing Longxing Football Field has learned the experience of Bernabeu, Westphalia, Anfield and other advanced stadiums, and will build a sunken football field to make the football field lower than the outdoor ground to ensure that the surrounding audience can have a good view. The South Stand of the field will also be built into a home team super fan stand with more than 9,000 seats, which will also be the largest single stand in the domestic football field.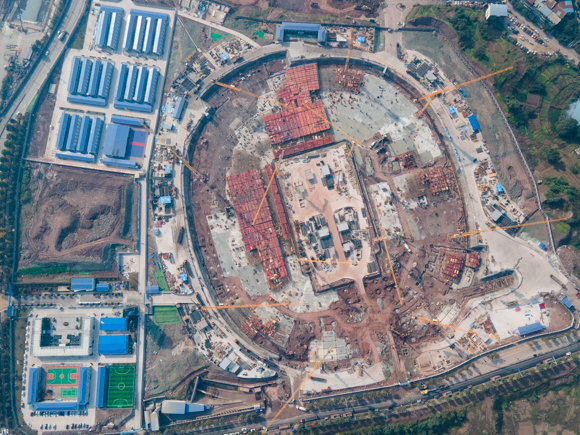 According to Hu Qingyun, in order to improve the quality and efficiency of construction, they divided the Chongqing Longxing Football Field into 4 equal parts, and 4 construction teams worked at the same time. These construction teams have professional football field construction experience. It is expected that by April next year, the main project of Chongqing Longxing Football Field will be completed and will be fully completed by 2022. (Translated by Luo Juan, Fathom Language Limited)
Editor:Jiang Yiwei