Chongqing News
Barbecue restaurants that can satisfy your stomach late at night
2020-11-19 14:55:19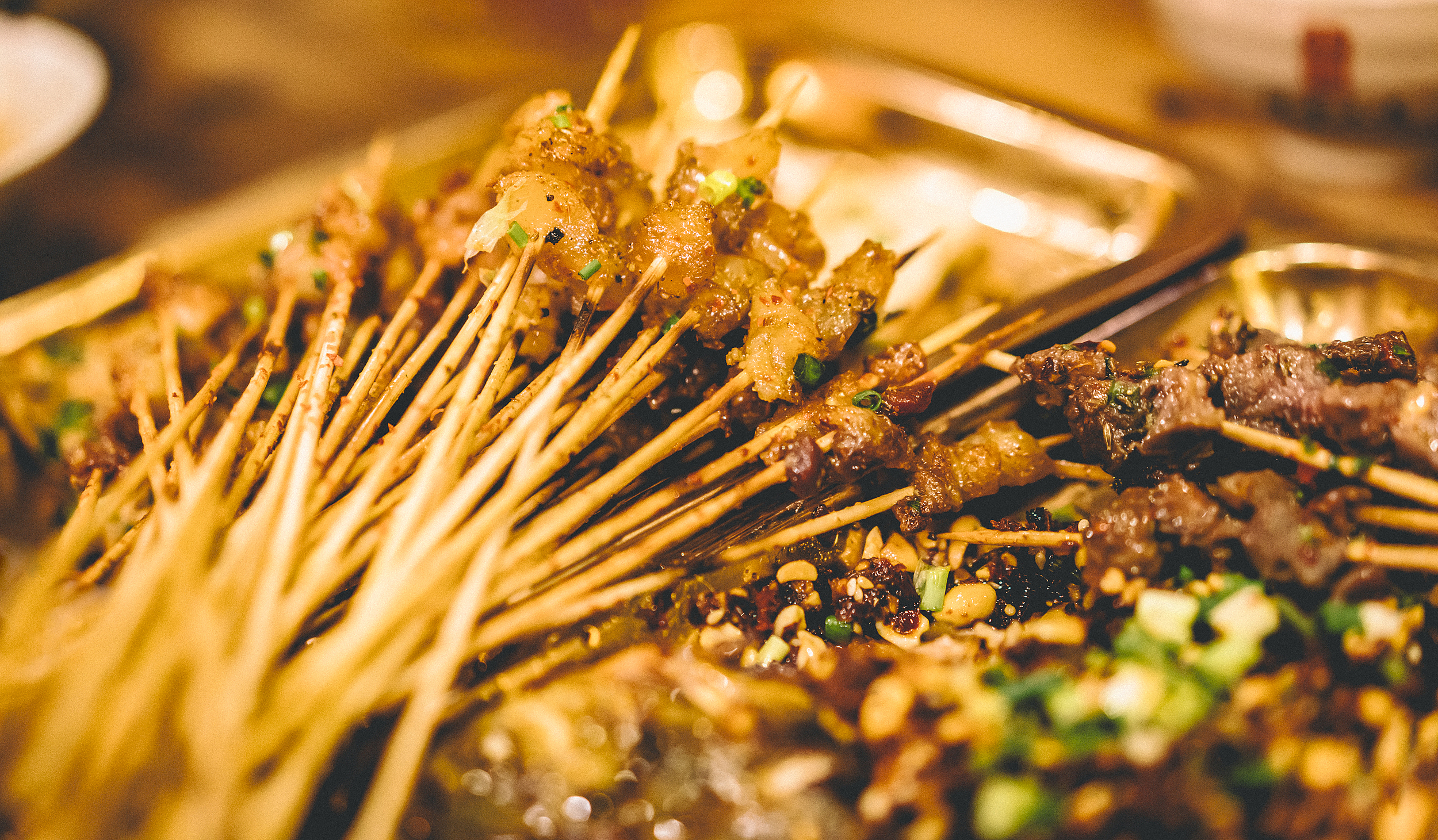 CHONGQING (CQNEWS) -- As night falls, barbecue must be one of what people want most. We selected a few barbecue restaurants for you. Let's take a look.
Glasses Barbecue
Glasses Barbecue is a long-established barbecue restaurant stationed on Keyuan No.4 Road. The environment is ordinary, but the taste here is delicious. Duck intestine is a must-order signature dish, crispy and spicy, without any peculiar smell. The brains are not baked with tin foil, but are baked on a large iron pan and topped with a layer of spicy shell and boiling oil, which is fragrant. The eggplant is big and fat, fresh and plump. When roasted, it is delicious with garlic.
Address: Near Keyuan 4th Road
Business hours: 17:30-02:00 next day
Nameless Barbecue
This barbecue restaurant has run for more than 20 years. It is hidden deep and there is no sign to find directions. No information can be found on the Internet. It is a "Tikan BBQ" whose reputation was spread by words of mouth of customers. You can call the boss to ask for the address if you are not familiar with the route. Grilled fish is a specialty. The owner personally fries the sauce and wraps it in tin foil to marinate it. In this way, the grilled fish is tender and refreshing, and you will never be cloyed with fish. The duck intestines are roasted in a special baking tray and then poured into a tin foil tray. The hotness of the pickled peppers and the freshness of the duck intestines blend together, making it spicy and crispy. As for the brains with pickled pepper, the amount of brains is quite large, and it tastes spicy, soft and extremely delicious.
Address: No.87, Taping, Jiangbei District (Near Jiangbei Hospital of Traditional Chinese Medicine)
Business hours: 20:00-03:00 next day
Master Yuan's Barbecue
This long-established barbecue restaurant is full at night. The staff members here are enthusiastic and the service here is efficient. The only downside is that the location is a bit far and it is not convenient for parking. This barbecue only sells meat dishes, no vegetarian dishes. There are all kinds of kebabs. The dishes here are very fresh. Unlike many frozen products, the taste is in line with the heavy taste of Chongqing people. The signature beef, streaky pork, and chicken crispy taste are very good. Corydoras is also a specialty in this restaurant. The charred fish skin is dipped in condiments and exudes an attractive aroma. The fresh and tender fish has no fishy smell at all, and you can enjoy the fresh and spicy flavor blooming in the mouth.
Address: Main Street of Dafo Section
Business hours: 18:00-23:30
Chen Pangwa Barbecue
This barbecue restaurant is exactly next to Master Yuan. If you feel that eating meat dishes is a bit monotonous, you can come here to order some vegetarian dishes. The taste will never let you down. In addition to the common grilled brains and Japanese tofu, loofah vermicelli is also a must-order dish. The fragrant loofah is paired with soft-roasted vermicelli, and garlic is added to enhance the flavor, making the population overflowing.
Address: ground floor of Yuhua Building, Main Street of Dafo Section
Business hours: 17:30-02:00 next day
He's Barbecue
He's Barbecue is also a well-known barbecue restaurant in Chongqing. The three types of streaky pork, chicken middle wings, and grilled steak are the treasures of the restaurant. Crispy and also tender, the double tastes bring a double feeling. There are not only simple barbecues, but also other kinds of seafood to meet everyone's different needs. There are also brewed beer with glutinous rice, wolfberry, dates and lemon, which is suitable for young friends to keep punk health.
Address: UG27-28, Building C, Longfor Times Paradise Walk, No.38, Daping Main Street
Business hours: 11:00-03:00 next day
(Translated by Zeng Chenxi, Fathom Language Limited)
Editor:Jiang Yiwei