Chongqing News
Osmanthus in bloom in major parks of Wanzhou
2021-09-08 09:45:11
CHONGQING (CQNEWS) -- In autumn, the fragrance of osmanthus blossoms for ten miles. The dense foliage is dotted with yellow flowers. As early autumn has just arrived, the osmanthus in Wanzhou is gradually blooming. The green areas of the major parks are lingering with the strong fragrance of flowers, telling the story of autumn.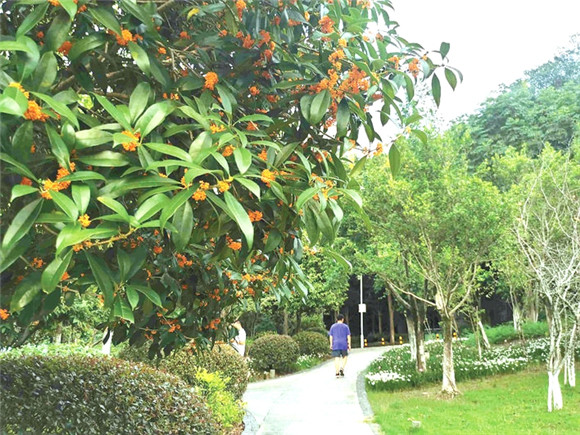 Osmanthus hanging from the branches in a park (Photographed by Pu Jiale)
In September, the people of Wanzhou unknowingly found yellow and orange osmanthus quietly hanging on the branches in parks and communities. Flower vendors on the streets hawked osmanthus.
The sweet and fragrant scent of osmanthus blossoms is wafting in the wind, bringing a different and beautiful atmosphere to Wanzhou this autumn. Do you want to know where to go in Wanzhou to enjoy osmanthus? It is learned that the oldest osmanthus in Wanzhou is hidden in Baiwan Village, Tai'an Town, where there is a tree that is still alive and well even at over 500 years of age. The tree, which takes three adults to hug, has a waist circumference of 460cm and is a unique sight with its luxuriant foliage and blossoming fragrant flowers.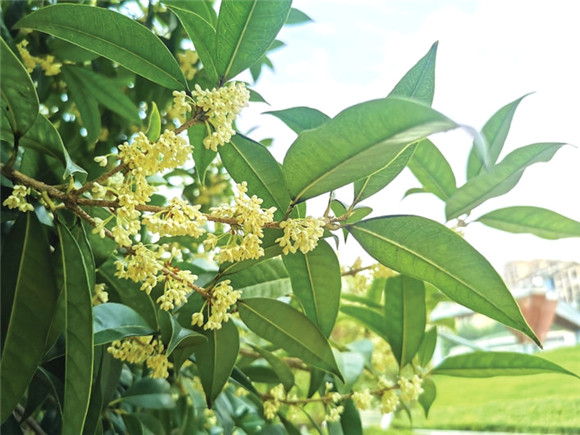 Blooming osmanthus (Photographed by Pu Jiale)
(Translated by Wang Huixin, Fathom Language Limited)
Editor:Jiang Yiwei