Chongqing News
Four places in Nanchuan District listed on Chongqing "Interesting Rocks" Map
2021-09-09 09:53:10
CHONGQING (CQNEWS) -- Recently, Chongqing Municipal Bureau of Planning and Natural Resources and Chongqing Geographic Information and Remote Sensing Application Center launched Chongqing "Interesting Rocks" Map, with four places in Nanchuan District on the list, namely Zengziyan, Mountain in the Shape of Books, Toudu Mazuiyan and Zhutai Peak.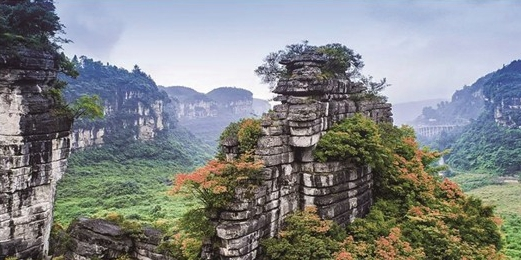 Mountain in the Shape of Books (Photographed by Zhao Zhi)
Located at the southern end of Jinfo Mountain and the eastern side of the Jinshan Lake, Zengziyan resembles a rice steamer when viewed from afar, hence the name Zengziyan. It is a giant limestone rock on the margin of the Jinfo Mountain platform and is one of the typical representatives of the Table Mountain landform on the Jinfo Mountain platform.
Located in Shibangou, Sanquan Town, the Mountain in the Shape of Books of Jinfo Mountain is home to such attractions as "Book of Ten Thousand Scrolls", "Jiulong Waterfall" and "Stone Boat", as well as natural scenery such as the precipitous cliff of sinkhole, streams and waterfalls and plunging waters of the gorge.
Located in Fangzhu Village, Toudu Township, Toudu Mazuiyan is named for its resemblance to a horse's mouth. Mazuiyan stands between the mountains with its strange rocks, surrounded by a sea of forests, clouds and fog. At sunrise, the daylight reflects on the cliff face of Mazuiyan in all its golden glory.
Zhutai Peak, also located in Toudu Township, is about 50 meters high in the middle of Baizhixi Grand Canyon at an altitude of nearly 700 meters, and is divided into two sections, the lower section resembling a candlestick and the upper section slender and towering, like a giant candle stuck in a candlestick. (Translated by Wang Huixin, Fathom Language Limited)
Editor:Jiang Yiwei