Chongqing News
The first "Aerobic Runway on the Cliff Line" in main urban districts of Chongqing


2021-09-10 10:02:46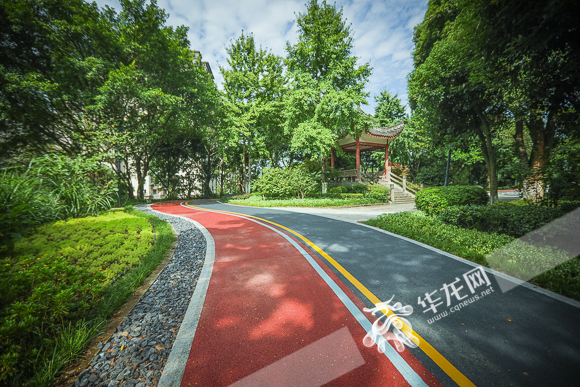 The newly constructed footpath in perfect harmony with the surrounding greenery and flower clusters

CHONGQING (CQNEWS) -- There is another new footpath in the Mountain City. The reporter recently learned that the Phase I of Footpath of Chongqing Iron & Steel Group in Dadukou District has been completed and put into use, so that the nearby residents have another good place to relax. It is expected that by the end of the year, five Mountain City Footpaths totaling about 80 kilometers in the main urban districts will have been completed and put into use.
It is introduced that the Mountain City Footpath is located on the Cliff Line of Chongqing Iron & Steel Group and covers an area of about 1,200 mu, with the majority of the planned nature being parkland and protective green space. The scheme is designed to combine the topography of the cliff line and the planning of the area, with one side facing the cliff and the other next to the river, maximizing the feature of viewing the river on the cliff line.
The reporter saw that the footpaths are designed to create high-quality Mountain City Footpaths with Chongqing characteristics, relying on the "One Belt and Three Rings" transportation system, linking the historical and cultural resources of the cliff line, creating the first "Aerobic Runway on the Cliff Line" in the main urban districts of Chongqing.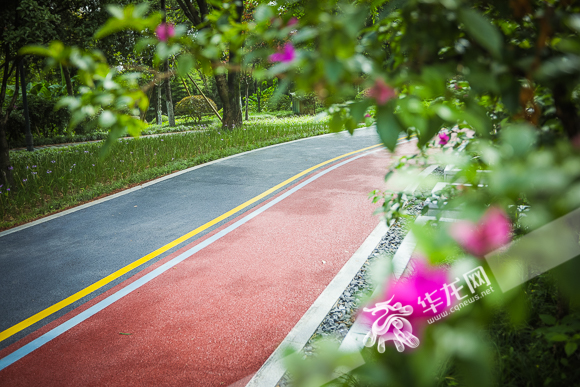 Colorful trail and park perfectly connected after completion of Phase I of Chonggang Footpath in Dadukou District
The "One Belt" line starts from Nanda Main Line to the north and connects to Jianqiao Avenue in the south, linking Yidu Park, Yidu Ancient Town, Siyuan Park, the Industrial Museum and Sutangyuan, with a main line length of 7km and barrier-free design. The main line is designed with 16 landscape nodes of various types, realizing a connection with barrier-free design between the Industrial Museum and Yidu Ancient Town. At the same time, the main line crosses the commercial plots that have been granted, and there is a plan to build an aerial runway on the roof in conjunction with the commercial development.
The "Three Rings" are based on a belt radiating outwards, with eight entrances and exits of various types on top of the main entrances at the north and south ends, connecting Jiugongmiao Business District, Gelaoxi area, Liujiaba area and the riverfront along the Two Rivers and Four Banks, and making it easier for residents on both sides of the river to access the Mountain City Footpath on the Cliff Line of Chongqing Iron & Steel Group and improving the service efficiency of the Mountain City Footpaths. It is understood that the completed Phase I of the project is approximately 2 kilometers long and Phase II is currently under construction, with the full line scheduled for completion in the first half of 2022. (Translated by Wang Huixin, Fathom Language Limited)
Editor:Jiang Yiwei