Chongqing News
To experience new entertainment project at Hongyadong
2021-11-23 11:48:23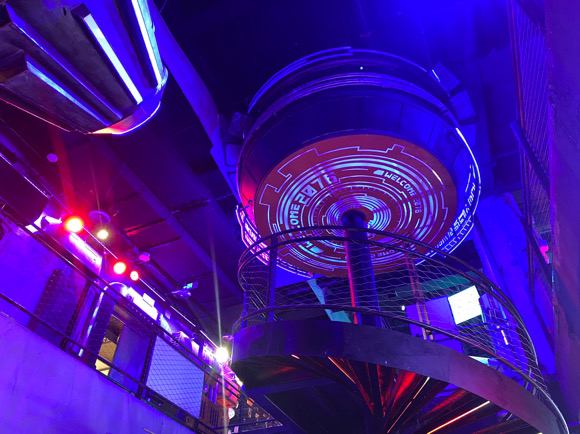 Cyberpunk style scenic area (Picture procided by the Scenic Area)

CHONGQING (CQNEWS) -- If you come to Chongqing, you must experience fine food and beautiful views here. Recently, scenic spots and cultural venues in Chongqing have reopened. The famous sightseeing spot, Hongyadong, added some new entertainment projects, not only a new nostalgic 1980 old Chongqing life block, cyberpunk future science fiction block welcoming to 2076 and other series of upgrade ones, but also Heart of Fog reasoning adventure travel game, bringing immersive travel experience.
The immersive travel experience, as a new tourism site with the emergence of experience economy, has become a new choice for cultural tourism to attract people in recent years. It is different from conventional tourism. Through panoramic interactive experience of sight, touch, hearing and smell, tourists can be "immersive" with culture and the story of the scenic area.
According to the relevant person of the scenic area, in Heart of Fog, the game mode of "literature travel + immersion script" is adopted, which integrates the most popular secret rooms, board games, outdoor elements and takes the mystery and science fiction storyline as the main experience for visitors. In the game, players pick roles randomly, perform "tasks", share clues and fight their way through a difficult tasks.
The game will shuttle between the magical blocks from Floor 4 to Floor 9 of Hongyadong, with a game scene of 46,000 square meters comparable to 20 large immersion secret rooms. In addition to the rich layers of scenes, there are more than 50 kinds of game skills in the game, more than 40 kinds of props and card combinations, nearly 20 types of exclusive secret tasks for unique characters, and each action will affect the game and produce different strategies and gameplays.
"The 'cultural tour + immersive script' mode can not only provide grand and real scenes, but also carry local cultural and historical elements, so that the form of tourism changed from sightseeing to role playing, greatly increasing the fun of the journey." According to the relevant staff of the scenic area, Heart of Fog reasoning adventure travel game is an innovative integration of cultural tourism and emerging entertainment industry, making traditional tourist attractions more youthful.
The game has been officially launched on November 20, and tourists can purchase tickets through Ctrip and other channels. (Translated by Liu Hongyan, Fathom Language Limited)
Editor:Jiang Yiwei