Chongqing News
Fengjie: Plum blossom in mid-winter
2022-01-10 09:51:21
CHONGQING (CQNEWS) -- "When winter arrives, all flowers are dead, but the plum blossoms stand alone in the snow." Recently, the red plums in Binhe Park in Fengjie County are blooming quietly. Clusters of delicate pink flowers hang on the branches, emitting a rich fragrance, adding a different color to the cold winter, and attracting the public to enjoy them.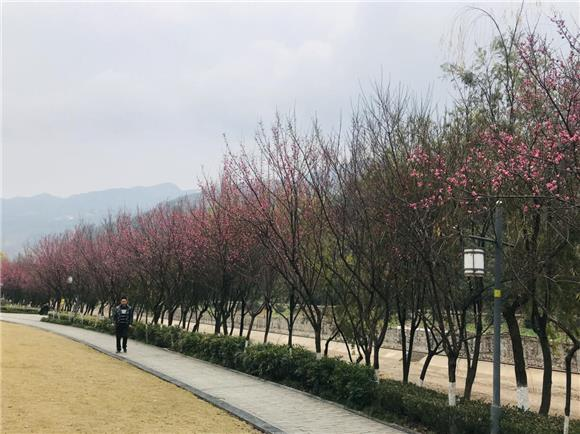 The writer saw in Binhe Park that when all flowers wither in winter, the plum blossoms take center stage. Many of the plum trees have sprouted buds on their branches, and in several places they are on the verge of blossoming, with a fragrant, delicate scent. The pink plum blossoms are either budding or blooming proudly in the cold wind. From time to time, people come to enjoy the scenery or sit on the benches under the plum trees, soaking up the warm winter sun and enjoying their leisure time.
Due to the weather and temperature, the wintersweet has now started to flower and by the time the branches and leaves have fallen off, the wintersweet will be in full bloom and is expected to have a flowering period of about a month.
In the cold winter months, all the flowers have withered, but the plum blossoms are in full bloom, showing their pride. The public can take a walk in Binhe Park to experience the beauty of this different winter scenery in their spare time. (Translated by Wang Huixin, Fathom Language Limited)
Editor:Jiang Yiwei