Chongqing News
Charging poles installed in residential communities
2022-01-10 11:47:29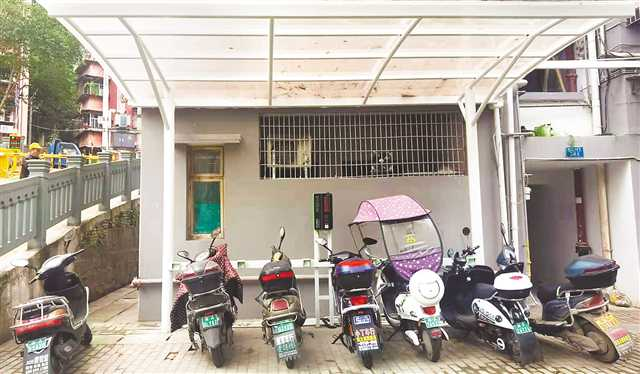 CHONGQING (CQNEWS) -- "With the installation of charging poles in the community, it is not only more convenient to charge our electric vehicles, but also much safer for us to travel." On January 5, Yi Xiuying, a resident of Danyan Community in Shuangjiang Sub-district, Yunyang County, told the reporter that she no longer had to worry about the "flying wires" that hang from the exterior walls of buildings for charging electric vehicles.
Built in the 1990s, Dayan Community was one of the first migrant settlement communities in Yunyang County. "We had the best facilities in our community more than 20 years ago." Yi Xiuying, who is in her 60s, is a resident of the community. She said that with the development of the city, the community facilities are aging and the functional support is relatively inadequate, which brings inconvenience to the residents' life.
Dayan Community was included in the scope of the transformation of the old communities of Yunyang last year. The local housing and urban-rural construction committee formed a "demand menu" by holding courtyard meetings, conducting household research and issuing questionnaires, and in accordance with the form of "I pay for what you order", the living environment and supporting facilities of the community were renovated and upgraded in batches and stages.
Phase I of the renovation project involves 5 buildings and over 200 residents. "The addition of charging poles was the most frequent suggestion by residents." Chen Bin, secretary of the party committee of Dayan Community, introduced that almost every household in the community has purchased an electric tricycle. Previously, there were no charging poles and residents had to charge at outside shops, and some residents had to connect "flying wires" from their homes to charge downstairs for less hassle. The wires were randomly laid and the connections were exposed, posing a serious safety hazard. "The longest 'flying wires' hang down from the fifth or sixth floor, and residents were particularly cautious when passing by for fear of leakage of electricity."
In August last year, thanks to the renovation of old communities, two smart charging poles were installed in the unused vacant land in Dayan Community. "One charging pile can charge up to 8 electric vehicles simultaneously. One yuan will charge the battery for 5 hours, allowing it to be fully charged in one go." At the time of the interview, there were several residents scanning the code for charging. The community also constructed a canopy around the charging piles and built a parking lot, "Not only can we now charge our vehicles, but there is also less haphazard parking in the community." Everyone raved about the benefits of the renovation.
In addition to solving the "charging difficulty", Dayan Community has also incorporated greening, beautification and brightening into the renovation of old communities – Once dilapidated building facades have been painted, uneven pavements have been smoothed, and unused vacant lands in the community have been renovated into community gardens equipped with direct drinking fountains, fitness equipment and other facilities for the public. (Translated by Wang Huixin, Fathom Language Limited)
Editor:Jiang Yiwei