Chongqing News
Dadukou: delighted farmers with fragrant fruits in spring
2022-01-11 09:42:51
CHONGQING (CQNEWS) -- Recently, the weather is sunny and the winter sun shines warmly on the earth, which makes people feel very comfortable and brings a lot of visitors to Kangran Mountain Resort in Dadukou Tiaodeng Town.
"6 yuan per jin for the small ones and 8 yuan per jin for the big ones." Li Shiquan, a villager in the 7th community of Shipan Village, has his home right next to Kangran Mountain Resort. Here comes the season for selling Chunjian oranges, so he put the fruits on the roadside for sales. With the golden color, round and large Chunjian oranges have attracted tourists passing by from time to time to stop, then Li Shiquan would open one orange and handed it over to tourists to have a taste.
"There are many people coming today. I have sold more than 200 jins of Chunjian oranges, with an income of more than 1,300 yuan." Li Shiquan happily told the reporter, his family planted 5 acres of Chunjian; this year, they picked up more than 3,000 jins of fruits, which is expected to sell more than 20,000 yuan.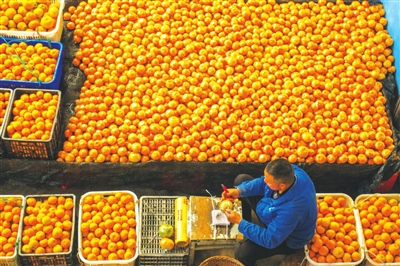 Li Shiquan took the reported to his storage room. Once opened the door, an orange fragrance wrapped in cool air came to the front. Li Shiquan said that Chunjian was ripe for picking in early December last year, and after about a month of storage and deacidification, it tasted best, crisp and juicy, balanced in sweetness and sourness. (Translated by Wang Junli, Fathom Language Limited)
Editor:Jiang Yiwei