Chongqing News
Winter sports are becoming a new trend in Chongqing
2022-01-11 11:15:28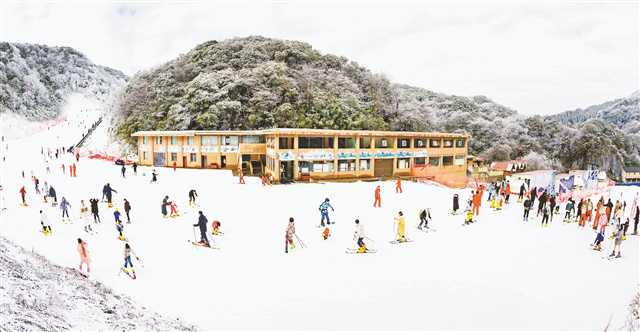 CHONGQING (CQNEWS) -- The 2022 Beijing Olympic Winter Games is around the corner, and Chongqing, thousands of miles away from Beijing, is taking advantage of the trends of the Olympic Winter Games to vigorously develop winter sports, and make these sports become the new trends in Chongqing.
According to an interview with Chongqing Daily reporter, in recent years, Chongqing has gradually become a fertile ground for winter sports by carrying out colorful winter events and building a number of professional winter sports venues. The data shows that the cumulative number of people participating in winter sports in Chongqing has reached nearly 1 million each year.
Not long ago, Chongqing Sports Bureau, Sichuan Sports Bureau and Chongqing Geographic Information and Remote Sensing Application Center jointly released the Map of Winter Sports in Sichuan and Chongqing. The map shows that there are 9 ski resorts in Chongqing, including Fengdu Nantianhu Ski Resort, Lengshui International Ski Resort, Maocaoba Ski Resort, Longgang Ski Resort, Jinfo Mountain Ski Resort, Jihua Park Ski Resort and Wulong Fairy Mountain Ski Resort, and 6 skating rinks including Eurojoy Ski Resort and Century Star Skating Club. These winter sports venues cover many districts and counties including Shizhu, Fengdu, Yunyang and Fengjie, so that citizens can participate in winter sports nearby.
Chongqing Daily reporter visited a number of winter sports venues, such as Sunac Resort, and found that the popularity of winter sports venues in Chongqing has become the norm every weekend and holiday.
Ke Ping, director of Chongqing Winter Sports Management Center, said that in recent years, in order to give citizens a better experience, Chongqing adhered to the concept of "high standard and intelligence" to build snow sports venues. "For example, Nantianhu International Ski Resort has high, middle and primary ski trails and teaching ski trails, which can provide professional skiing courses for skiers of different ages; the Jihua Park Indoor Ski Resort has a professional ski track with a length of about 150 meters, a width of about 38 meters and a drop of 21 meters." (Translated by Wang Junli, Fathom Language Limited)
Editor:Jiang Yiwei