Chongqing News
Try the first cup of winter "milk tea"!
2022-01-12 10:13:01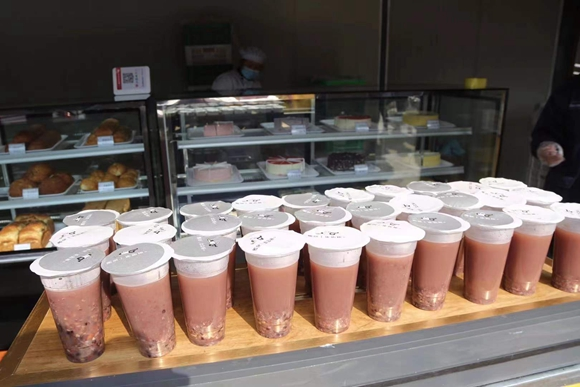 CHONGQING (CQNEWS) -- January 10 is the Laba Festival. Drinking a bowl of steaming Laba congee with authentic ingredients is something that many citizens miss. On the afternoon of January 9, the staff of Meixin Red Wine Town Scenic Spot in Linshi of Chongqing Fulin presented the special Laba congee free of charge to the on-site tourists. When they saw it, they thought it was like a cup of milk tea, which tourists called the first cup of warm "milk tea" in winter.
Early that morning, 1 Yuan Bakery in Meixin Red Wine Town was cooking the loving Laba congee. The delicious and sweet Laba congee opened at 9: 30 in the morning on time. After nearly two hours of slow fire cooking, a cup of delicious, warm and nutritious Laba congee came out. In order to facilitate tourists to share food, the scenic spot staff carefully packed Laba congee with milk tea cups, one cup for each person, for tourists to queue up for free.
Drinking warm Laba porridge, the tourists are laughing from ear to ear. "It tastes good. This is my first cup of 'milk tea' in winter." Ms. Chen, a tourist, joked that she didn't expect to have Laba milk tea congee in the scenic spot. (Translated by Wang Junli, Fathom Language Limited)
Editor:Jiang Yiwei