Chongqing News
Chongqing - Moscow cargo flights resumed
2022-01-12 11:15:01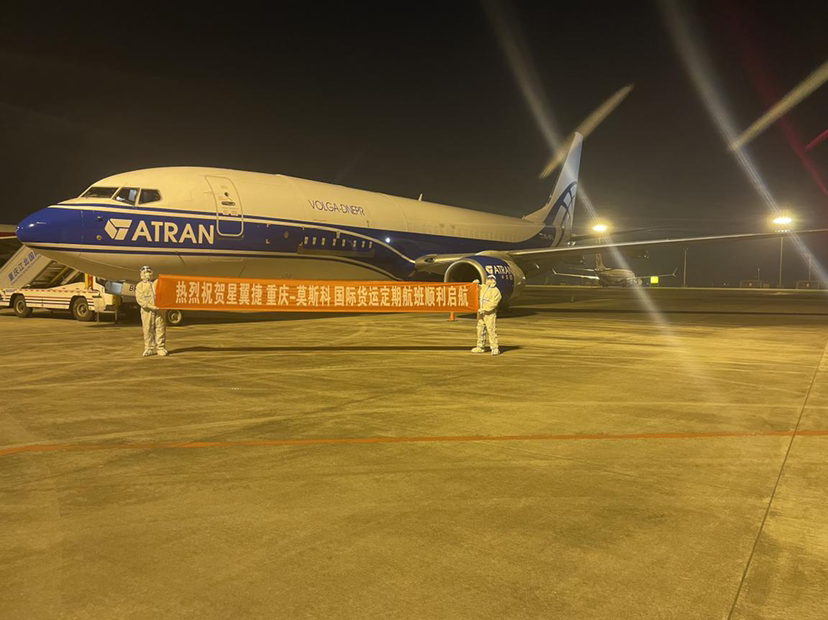 CHONGQING (CQNEWS) -- The reporter learned from Chongqing Jiangbei International Airport that in the early morning of January 10, Russia's Atran Air opened Chongqing - Krasnoyarsk (stopover) - Moscow cargo route, marking that Chongqing resumed cargo flights to Moscow.
According to reports, the flights are B737-800 all-cargo aircrafts to fly every Monday and Friday, each with the maximum capacity of about 20 tons. The cargo of the first flight was mainly auto parts, electronic equipment and garments, with more than 19 tons of cargo leaving the port, which was close to full capacity.
In the past year, Chongqing Airport has increased the development of international cargo routes, enhanced the international air cargo security, successively opened Chongqing - Ekaterinburg - Brussels, Bangalore - Chongqing, Chongqing - Nantong - Tokyo, Chongqing - Dakha, Chongqing - Krasnoyarsk and other international cargo routes, and increased Chongqing - Chicago cargo routes.
Data shows that in 2021, the guaranteed international (regional) cargo and mail throughput exceeded 220,000 tons, an increase of nearly 50% year-on-year, and the international (regional) cargo and mail volume exceeded the 200,000-ton for the first time, remaining the first in the west for many years. (Translated by Wang Junli, Fathom Language Limited)
Editor:Jiang Yiwei