Chongqing News
Chongqing weiqi players selected into Chinese Weiqi Team for the 2022 Asian Games
2022-04-22 09:58:33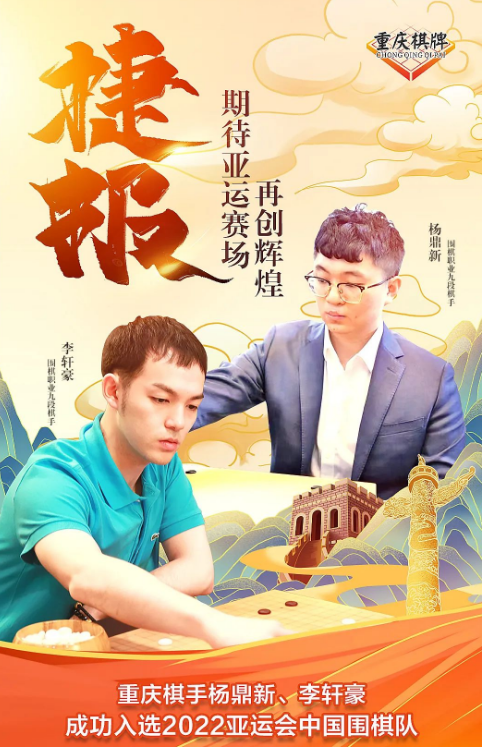 CHONGQING (CQNEWS) -- According to Chongqing Chess Center, Yang Dingxin and Li Xuanhao, two weiqi players from Chongqing, advanced beforehand to the eighth round of the men's group competition in the second stage of Chinese Weiqi Team training tryout for the 2022 Asian Games, which ended on April 19. They will be competing in the Asian Games in September. This is the second time for a Chongqing weiqi player to participate in the Asian Games after Gu Li was selected into the Chinese Men's Weiqi Team in the 2010 Guangzhou Asian Games.
It is reported that the Chinese Weiqi Team training tryout for the 2022 Asian Games is divided into two stages. Li Xuanhao won the qualification for the first stage by virtue of his upper ranking, while Yang Dingxin directly participated in the second stage by ranking fifth.
In the first stage, Li Xuanhao was in excellent condition, and by winning all seven matches, not only advanced to the second stage, but also won the Dan promotion scores, promoted to professional 9 Dan, thereby becoming the third 9 Dan master in Chongqing, achieving a personal career breakthrough. In the second stage, Yang Dingxin led the standings with Fan Tingyu in a series of four mighty wins. Although he lost to Gu Zihao in the fifth round, it did not affect his mentality at all, and he won the sixth to eighth rounds successively to advance beforehand. Li Xuanhao also played a steady game, finally winning the qualification with 5 wins and 3 losses.
It is understood that the training of the Chinese Weiqi Team for the 2022 Asian Games is divided into three stages. The first stage will be combined with the tryout, in which the excellent players compete with each other as training, and the second stage will be held from May to June, while the last stage will be held in Hangzhou in August as a final preparation. (Translated by Shao Yuming, Fathom Language Limited)
Editor:Jiang Yiwei