Chongqing News
Loquats are ripe! Go to these places in Chongqing to have a fresh taste
2022-05-11 14:25:24
CHONGQING (CQNEWS) -- In May, loquats cover the trees. It is another year when the loquats are ripe, and the yellow loquats are hanging on the branches, light yellow in color, fresh and tender, which makes people salivate. You could find a sunny day to pick and taste fresh loquats, and experience a different kind of fun. Here are some good places to pick loquats for everyone. Let's have an appointment with friends to pick them together!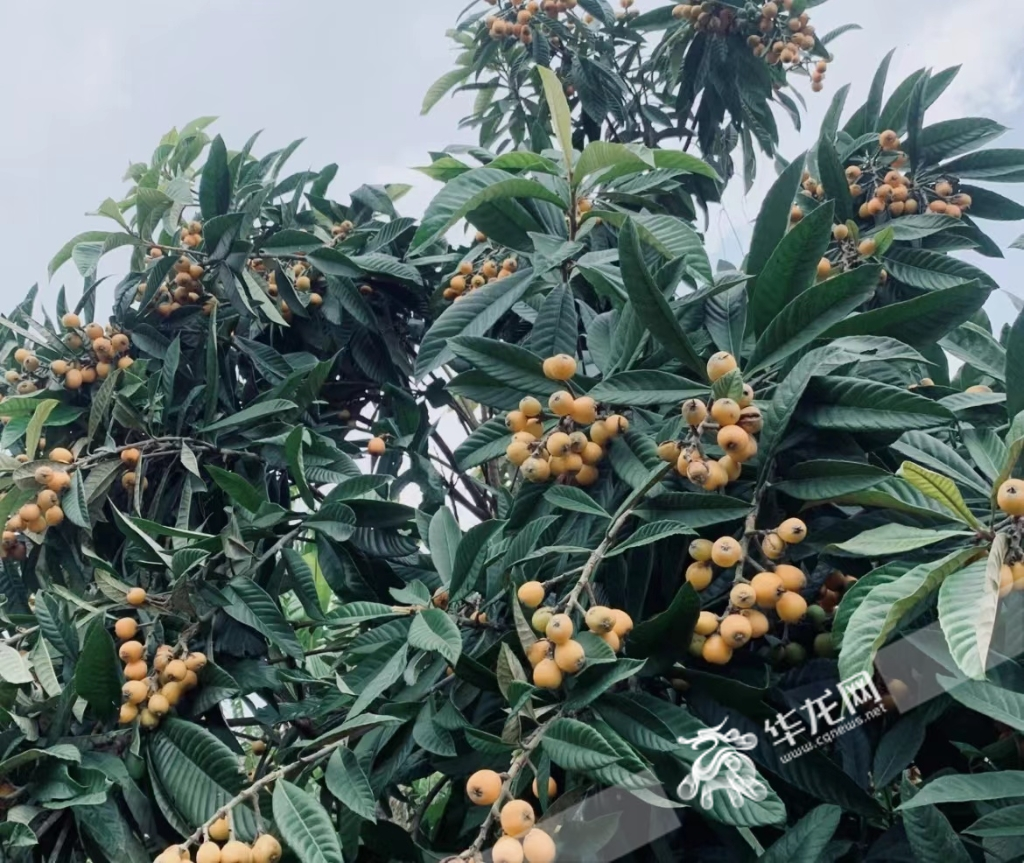 The Nanhai Loquat Garden, Dadukou District
In the Nanhai Loquat Garden, the green forests all over the mountains and plains are dyed into a beautiful picture of yellow and green. The golden loquats are all over the branches and look very attractive. If you look around, every tree is covered with large and sweet loquats, waiting for everyone to pick and taste. This year's sunlight is more abundant, and the loquat is larger than previous years, with more water and a sweeter taste. In addition, there are fresh and authentic farm dishes in the surrounding farmhouses for tourists, which can make everyone have a palatable feast, as well as mountain climbing, grass skiing, fishing and other entertainments for everyone to play.
Guangyang Town Huilong Loquat Base, Nan'an District
Huilongqiao Village in Guangyang Town, Nan'an District faces the Yangtze River, and the scenery is very beautiful. The Loquat Festival in Guangyang Town is very lively every year. There are varieties of loquats in the park, mainly selenium-rich loquats, which are not only plump and sweet, but also rich in nutrients. The loquat trees are covered with mature loquats, round and golden, whether hidden in the green leaves or hanging on the branches, crystal-clear under the sunlight, which is particularly attractive.
Shuangjing Village, Yufengshan Town, Yubei District
The loquats in Shuangjing Village, Yufengshan Town, Yubei District, are famous for their large, colorful, plump and juicy fruits. The taste of early summer must resemble this string of yellow loquats! Everyone can carry the bamboo baskets and stroll among the loquat forests, chatting and having a fresh taste, peeling off the fine and fluffy loquat skins. The abundant juice instantly flows from the fingertips, and for one bite you can have a warm and soft, sweet and sour taste, with an endless aftertaste. In addition, there are many farmhouses for tourists and fishing parks around here. Those who want to pick loquats and play can go here to spend a good day.
(Translated by Shao Yuming, Fathom Language Limited)
Editor:Jiang Yiwei