Chongqing News
Wansheng: A feast of Han Chinese clothing held on a one-thousand-year street
2022-06-09 10:49:29
CHONGQING (CQNEWS) -- As much has happened after hundreds of thousands of years, Wansheng Old Street has become the carrier of this area.
Wansheng Old Street is a name followed by "Wansheng Bazaar" – the name was given in the first year when emperor Xianfeng ascended to the throng in the Qing Dynasty. In the mid-19th century, the prosperous Wansheng Bazaar served as a distribution center for mountain products, local specialties, sugar, salt and other necessities in Sichuan and Guizhou. In addition, there were a great number of inns and stores on the street. All this depicted a thriving scene of Wansheng Bazaar at that time.
As the old street has witnessed great changes, the blend of antiquity and modernization, and solemness and trendiness throughout the street, from the first lane to the third one and the second lane to the fourth one, present a unique and marvelous old street to us.
As such, what will it be like when people wearing Han Chinese costumes wander around the old street? Will it also be a stunning scene?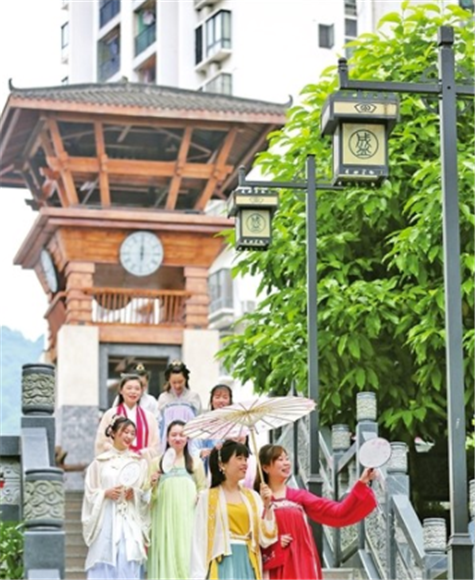 Days ago, a crowd of people who are fond of Han costumes gathered in the Wansheng Old Street, gaining an experience of Chinese traditional culture as if they were having conversations with our ancestors. (Translated by Huang Ziming, Fathom Language Limited)
Editor:Jiang Yiwei