Chongqing News
Chongqing: accelerating the construction of Longxing Football Stadium as planned
2022-06-13 10:31:44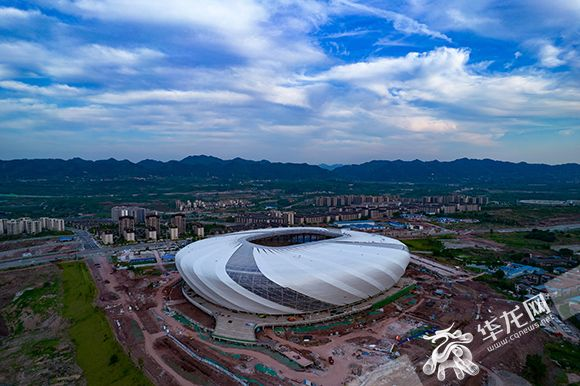 CHONGQING (CQNEWS) -- At the thirty-fourth meeting of the Standing Committee of the Fifth Chongqing Municipal People's Congress, the municipal government's report on the development of competitive sports in our city was submitted to the conference for deliberation.
The report shows that Chongqing has vigorously promoted the construction of competitive sports training facilities, built new campus of the city's sports school, rebuilt the shooting school's flying saucer shooting range, and the swimming and diving hall of the competition training center will soon be put into use, the Dadukou International Small Ball Competition Center has completed planning and project approval according to the progress. Although the 2023 AFC China Asian Cup football game is no longer held in our country, the municipal government still regards Longxing Football Stadium as an important sports facility in our city, insists that the standards will not be lowered and the construction period will not be extended, and requires relevant units to speed up the construction according to the established plan.
Next, Chongqing will strengthen site construction and investment guarantee. Combining with the urban function improvement, implement competition holding and training promoting plan, benchmarking the needs of international and domestic large-scale competitions. Combined with the urban function planning, the overall planning and full demonstration of the city's sports venues planning and layout will be taken out, to promote planning projects and projects under construction to speed up, promote the renovation and upgrading of old venues in an orderly manner, and strive to achieve the goal of hosting the National Comprehensive Games in 2029.
At the same time, Chongqing will also accelerate the upgrading, reconstruction and expansion of existing training bases in accordance with the national training base standards and preparation needs, and coordinate the construction of off-site training bases. Strengthen sports competitions events and branding of sports projects, strengthen publicity and promotion, vigorously develop the sports industry, give full play to the role of social organizations such as sports federations and project associations at all levels, and widely attract social capital to invest in the construction and operation of venues, events, and athletic projects. (Translated by Wang Jing, Fathom Language Limited)
Editor:Jiang Yiwei