Chongqing News
Caiyuanba Railway Station to stop passenger services from June 20
2022-06-17 14:35:38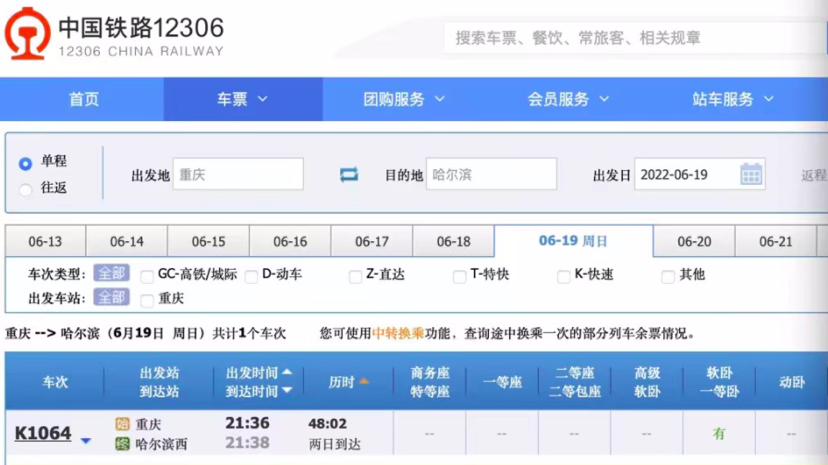 CHONGQING (CQNEWS) -- On June 15, China State Railway Group Co., Ltd. announced that from 0:00 on June 20th, the national railway will implement a new train working diagram. The reporter's query on the official website of 12306 showed that after the map was adjusted, there were no subsequent trains running at Chongqing Railway Station in Caiyuanba.
It is known that from 0:00 on June 20, the national railway will implement a new train working diagram, improve the quality and efficiency of passenger and freight transportation, and reduce the travel time between cities, effectively contributing to economic and social development.
Reporter inquired about 12306 official website, and found that after the map adjustment, there would be no ticketed trains at Caiyuanba Railway Station in Chongqing. The last train from Caiyuanba Railway Station will be K1064 at 21:36 on June 19, bound for Harbinxi from Chongqing.
Subsequently, the reporter confirmed to the relevant staff of Chongqing Railway Station: Caiyuanba Railway Station will stop passenger transportation from June 20.
》》More about this
Chongqing Railway Station, also known as Caiyuanba Railway Station, is located in Caiyuanba, Yuzhong District. It was completed and put into use in July 1952. It is one of the oldest railway stations in Chongqing and has been built for more than half a century.
In April this year, it was mentioned at the annual work conference of the Chongqing Railway Investment Group that the conceptual design scheme of the station building and supporting integrated transportation hub project of Chongqing Railway Station has completed global collection. In accordance with the relevant approvals from National Development and Reform Commission, China State Railway Group Co., Ltd. and the municipal government, focusing on the goal of building a national comprehensive railway hub, Chongqing Railway Station will start construction within this year. In order to form the main channel of Xiamen – Changsha – Chongqing – Chengdu high-speed railway and the auxiliary channel of high-speed railway along the river as soon as possible, it is planned to strive to complete the preliminary design and review by the end of October, and complete the preliminary design approval by the end of December. (Translated by Wang Jing, Fathom Language Limited)
Editor:Jiang Yiwei