Transport
Chongqing Airlines plans to open more flight routes in the coming summer rush
2022-06-20 10:21:49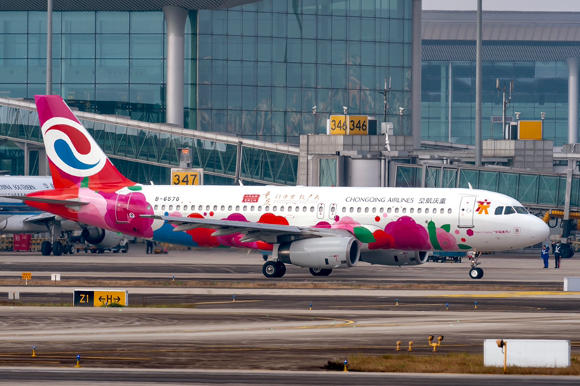 CHONGQING (CQNEWS) -- The reporter learned from Chongqing Airlines that since June, Chongqing Airlines plans to open new flight routes including Chongqing-Changsha-Xiamen and Chongqing-Kashgar-Yining, and adjusts the schedule of many busy routes for tourism. It is expected to put 61 flight routes and 58 shipping points into operation this summer.
From June 16, Chongqing Airlines plans to open a new route, namely, Chongqing-Changsha -Xiamen route, and the flights will take off every Tuesday, Thursday and Saturday. The departure flight CZ2725 takes off from Chongqing Jiangbei International Airport at 07:00, arrives in Changsha at 08:20, takes off from Changsha at 09:20, and lands at Xiamen Gaoqi International Airport at 11:00; the return flight CZ2726 takes off from Xiamen at 12:00, lands at Changsha Huanghua International Airport at 13:40, takes off from Changsha at 15:10, and lands in Chongqing at 16:35.
From July 1, Chongqing Airlines will gradually open new routes such as Chongqing-Kashgar-Yining, Hohhot-Hailar, Chongqing-Zhengzhou, Guangzhou-Zhengzhou, Guangzhou-Wenzhou, Guangzhou-Dali, and restore the routes such as Huizhou-Wanzhou and Hohhot-Ulanhot.
In addition, Chongqing Airlines will adjust the schedule of many flights including Chongqing-Lhasa, Zhuhai-Chongqing-Nyingchi / Daocheng, Chongqing-Wenzhou and Chongqing-Yancheng. It will work to further optimize its flight structure, thus providing a better travel experience to passengers.
It is worth noting that the day, June 16, 2022, marks the 15th anniversary of Chongqing Airlines. Over the past 15 years, the company has stayed committed to building Chongqing into a better city and providing quality services to people in Chongqing.
Chongqing Airlines has launched special airfares on more than 40 routes, such as Chongqing-Wuhan, Chongqing-Beijing Daxing, and Chongqing-Hohhot, Chongqing-Taizhou, Chongqing-Zhuhai, Chongqing-Wenzhou and Chongqing-Daocheng, respectively at the lowest discount of 89%, 88%, 85%, 83%, 70% and 62%. You can learn more details about flight information and special airfares on its official website, official APP and official Wechat accounts. (Translated by Huang Ziming, Fathom Language Limited)
Editor:Jiang Yiwei