Food
These novel and interesting air-raid shelters worth a visit
2022-07-29 15:02:26
CHONGQING (CQNEWS) -- The air raid shelter that once provided life shelter for Chongqing people is still emitting residual heat over time. Some of them have been transformed into places for citizens to cool off and spend the summer, and some have been given new life, becoming independent shops or art spaces, which makes Chongqing's "underground world" like "cyberpunk" reveal a different kind of urban charm. Life. We will recommend some novel and interesting air raid shelters for you. Come and have a look!
Laojiulong fresh dish hotpot
The air-raid shelter is warm in winter and cool in summer, just to cool the hot Chongqing hotpot. The Laojiulong fresh dish hotpot, located in the opposite of Building 4, Zhongdi Square, Fuxing Road, Jiulongpo District, is an old hotpot opened in the air-raid shelter. Its facade looks like a city wall and archway, and inside is the retro decoration of old Chongqing in the 1970s and 1980s. "Baba Movie", "Family of Glory", "Telegraph Room" and other contemporary decorative patterns are varied.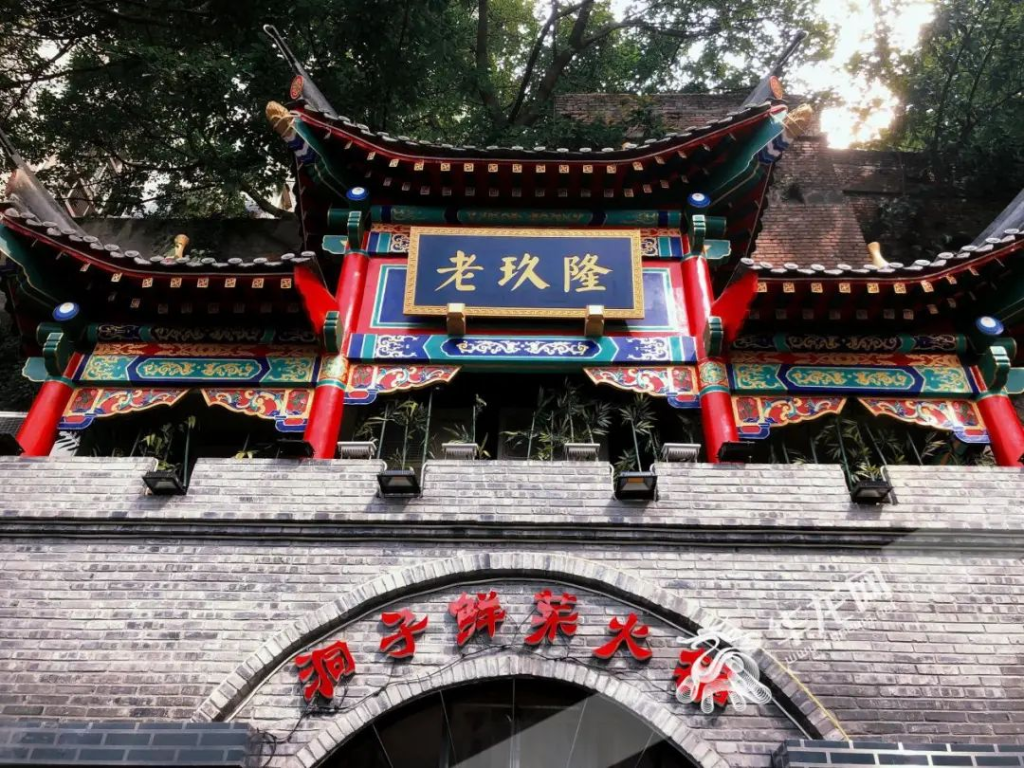 The taste of hot pot is authentic, spicy and fragrant, and the classic hot pot dishes such as fresh cattle tripe and duck intestines are crisp, tender and delicious. Laojiulong fresh dish hotpot skillfully combines business cards such as "Hotpot" and "Old Chongqing" through the "air-raid shelter". While reviewing the city's past, it describes the beauty of the city to the outside world.
Address: Opposite to Building 4, Zhongdi Square, Fuxing Road, Jiulongpo District
Route: Walk about 450 meters from Exit B of Yangjiaping Station of CRT Line 2.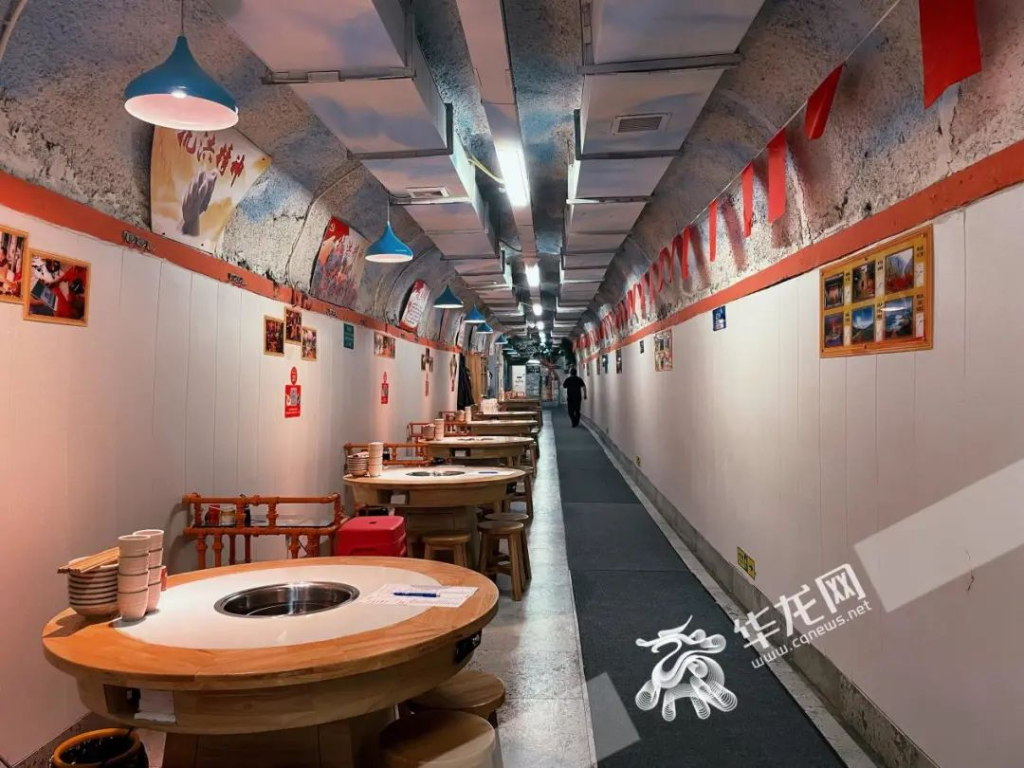 "Stone House" art space
The "Stone House" art space is a new checkpoint for air-raid shelters in Chongqing. Starting from the gate of Huangjueping campus of Sichuan Academy of Fine Arts, walk for a few minutes in the direction of Chongqing Power Plant, and you will see a "Stone House" built with strips of stone on the right side of the road.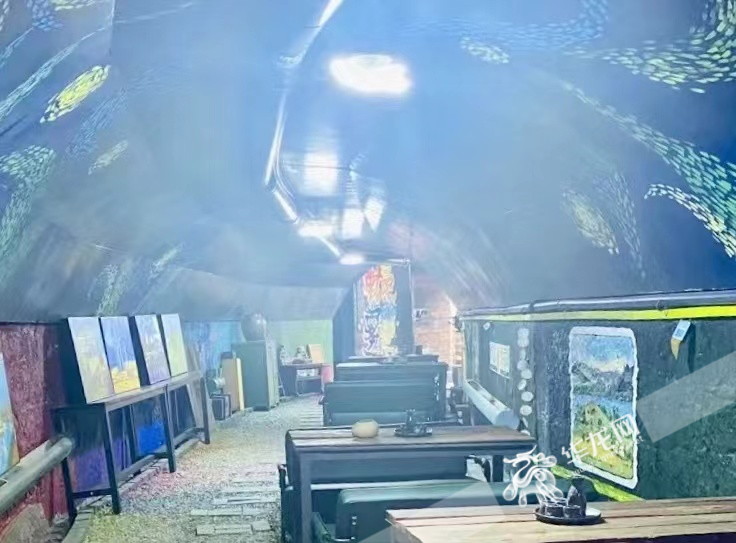 It is understood that the "Stone House" is one of the latest achievements of Chongqing's "Mountain City Cave" civil air defense special project to serve the people's livelihood. The currently open part of the civil air defense project is about 3.2 meters wide and more than 60 meters long, and the indoor temperature is 22-26 degrees Celsius. Citizens can not only rest here, but also enjoy beautiful wall paintings and green plants. From the cave to the 2nd and 3rd floors, there are also creative spaces for photography, calligraphy, seal cutting, oil painting, etc. In the later stage, some aesthetic education training courses will be carried out to truly integrate art into the citizens' lives.
Address: Next to Power Plant Club, Jiulongpo District, Chongqing
Route: Get off at Xiejiawan Station of CRT Line 2 – get on Bus 823 and 223 at Xiejiawan Station – get off at Wulongmiao Bus Stop – walk about 330 meters to the destination
Caver Craft Wine Bar
The entrance of Caver Craft Wine Bar is hidden in a rock wall of a mountain in Liziba. There is no deliberately complicated decoration in the bar. The yellowish walls are uneven, and the dim lights are staggered, preserving the most primitive and natural experience of the air raid shelter.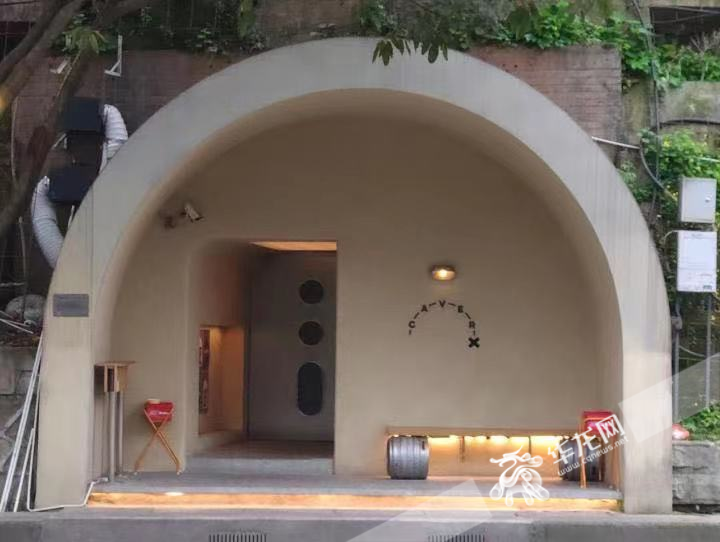 Walking into the depths of the cave and ordering a special prepared craft beer, the world is no longer noisy, and there is only a wine, a long blues and a lonely and sober drinking friend. Maybe the boss will come to chat and talk about his love for wine, air-raid shelters and old Chongqing. At the same time, he also hopes that the diners who come here can relax for a while and enjoy the charm of caves and wine.
Address: No. 21, Liziba Main Street, Yuzhong District, Chongqing
Route: Walk about 340 meters from Exit 1 of Liziba Station of CRT Line 2.
(Translated by Xu Hong, Fathom Language Limited)
Editor:Jiang Yiwei