Chongqing News
The largest inland river fire rescue ship in China arrives in the central urban area of Chongqing
2022-08-02 14:12:51
CHONGQING (CQNEWS) -- On the afternoon of July 31, the largest inland river fire rescue ship "YX Rescue 07" successfully arrived in the central urban area of Chongqing. Surrounded by the river water on the four banks of the two rivers, the water detachment of Chongqing Fire Rescue Corps greeted the fire rescue ship that was about to enter the queue in the form of "Crossing the water gate".
At the ceremony site – Chaotianmen water area, two fire rescue ships "YX Rescue Command 01" and "YX Rescue 01" sprayed two staggered giant water columns in the air, like a big water gate, surrounding "YX Rescue 07" and welcoming its arrival. Many citizens and tourists along the river bank also picked up their mobile phones to take photos, recording this moment.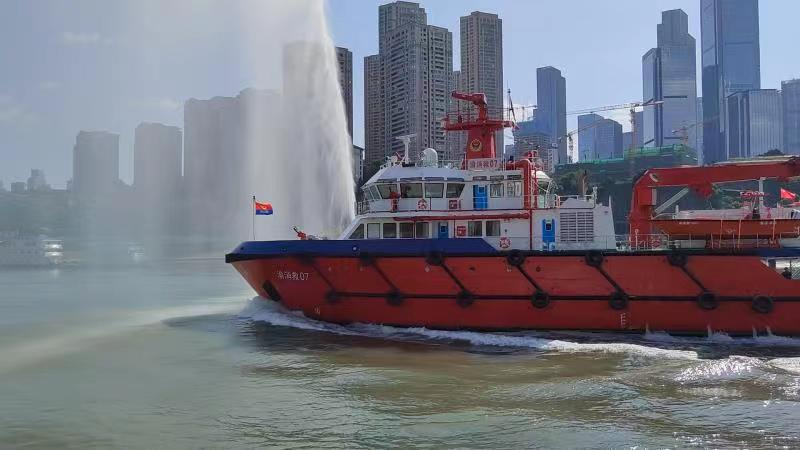 It is understood that "YX Rescue 07" is the largest inland river fire rescue ship in China at present, with a total length of 60 meters, a shape width of 13 meters, a shape depth of 4.5 meters, a displacement of 1100 tons, and a speed of 28 km/h. It adopts an advanced electric propulsion system, and is equipped with three main generator sets as the main power supply, external fire protection system, fire command system, fire command and monitoring platform, audio and video conference system, shipborne satellite communication system, helicopter hovering platform and UAV hangar, which can meet the on-site command of various major water events in the complex navigation environment of the Yangtze River.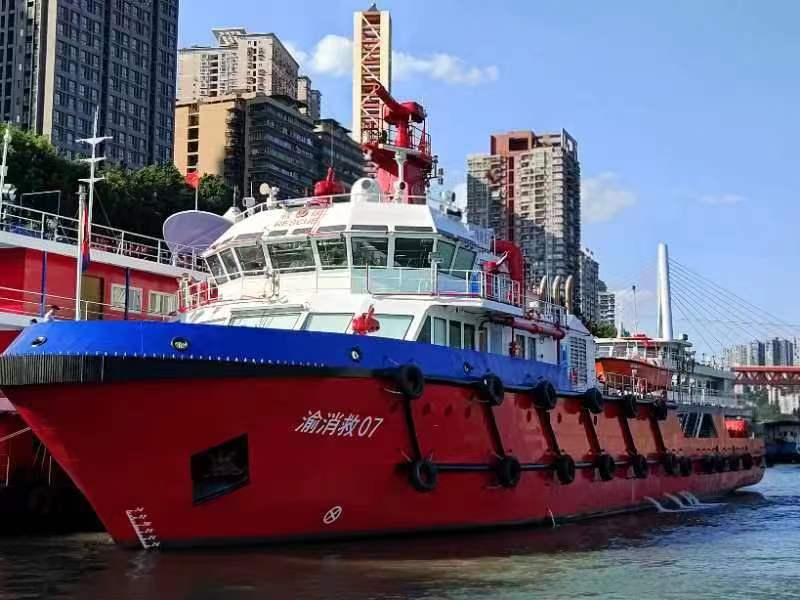 After the formal delivery, "YX Rescue 07" will mainly undertake the fire-fighting, rescue and emergency rescue tasks for ships in the inland waters of the main stream and its tributaries of the Yangtze River in Chongqing, port shores and wharves. It can supply water to the opposite bank, and can carry out fire-fighting, rescue, towing, pushing and so on for ships in distress, as well as temporary emergency towing operations for ships of the same type and below. (Translated by Xu Hong, Fathom Language Limited)
Editor:Jiang Yiwei