Chongqing News
New technology adopted in the construction of Chongqing Rail Transit Line 18
2022-08-05 14:55:40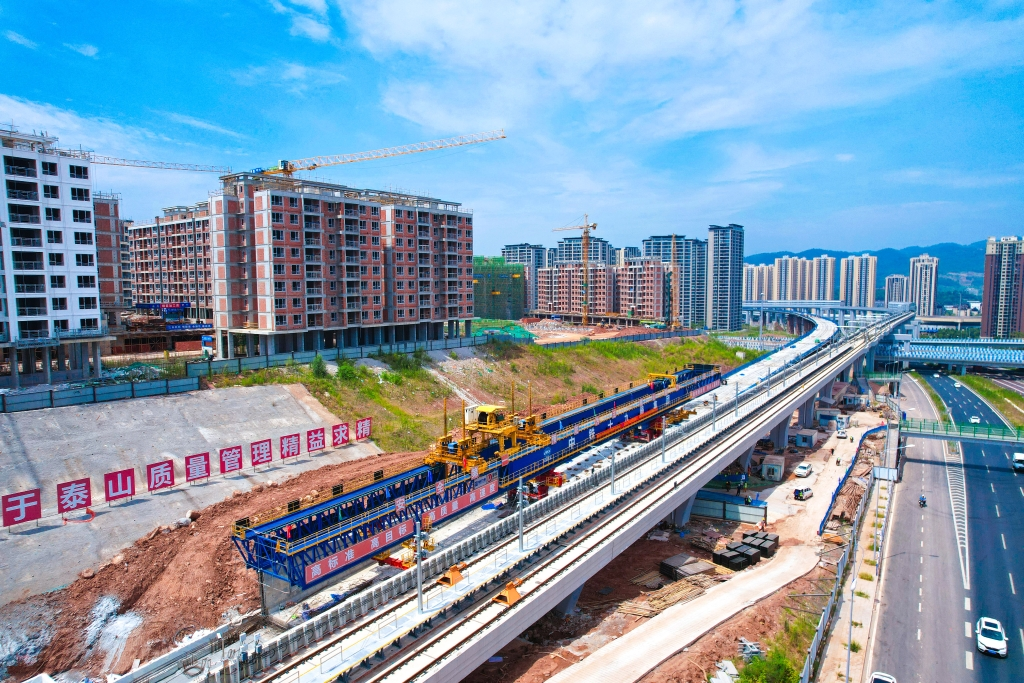 CHONGQING (CQNEWS) -- With steady dropping of the last girder by the bridge erecting machine, the prefabricated and assembled segmental girder of Jinaoshan Station – Tiaodeng Station section of Chongqing Rail Transit Line 18 has been erected, which is the first double-track prefabricated and assembled bridge section in the whole line. It is understood that the segmental assembly construction technology is the first time in the construction of Chongqing rail transit.
The total length of the Jinaoshan Station – Tiaodeng Station section is 2136.5 meters, of which the viaduct is 1729 meters with a total of 46 spans. 35 spans are prefabricated and assembled box girders with double-track segments, with a maximum span of 45.2 meters.
It's understood that the construction environment of this section is complex, and cross-construction mode must be adopted with the urban (suburban) railway Jiang-Tiao Line, Zhongba Road Tiaodeng interchange, Lijiawan interchange of the second longitudinal line, etc. The scope of the construction site is limited, and it is close to the 110kV high-voltage line at the same time. It crosses the existing municipal roads twice, so the construction is difficult.
During the construction, the segmental assembly construction process is adopted, the segmental girders are prefabricated in the prefabrication site first, and then transported to the on-site lifting point. The bridge erecting machine lifts more than a dozen segments of a span beam respectively, just like stringing "sugar gourd" in the air to form an integral beam segment, and they are erected on two piers to complete the erection of a span beam. Compared with the traditional continuous beam construction, this process is faster, and the erection of a span beam in three days is can be completed.
According to CRCC Chongqing Investment Group Co., Ltd., rail transit Line 18 passes through Yuzhong District, Jiulongpo District, Banan District and Dadukou District with a total length of about 29 kilometers and 19 stations. With the completion of the erection of prefabricated and assembled segmental girder in this section, conditions have been created for the bridge construction between Tiaodeng Station and Tiaodeng South Station so that the construction has been further accelerated. (Translated by Xu Hong, Fathom Language Limited)
Editor:Jiang Yiwei