Chongqing News
The construction of a railway track for CRT Line 18 begins
2022-09-19 13:10:30
CHONGQING (CQNEWS) -- Recently, the commencement ceremony of Chongqing Rail Transit (CRT) Line 18 Track Laying Project was held in Funiuxi track laying base, which marked the start of track laying for Line 18, and laid a solid foundation for its opening to traffic.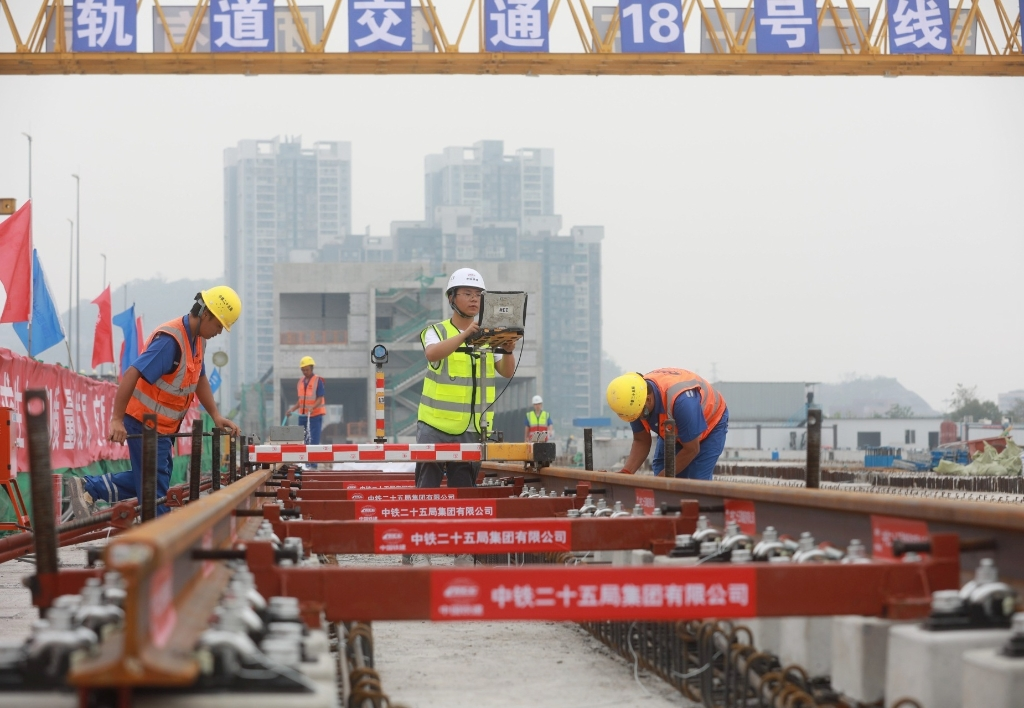 CRT Line 18 covers from Fuhualu Station to Tiaodengnan Station, with a total length of around 29 kilometers.
China Railway 25th Bureau Group that undertook the track laying project, made comprehensive planning in accordance with the organization arrangements of the project. They set up 4 track laying bases and 4 bases for scattered laying, and proposed to invest in 8 portal cranes, 16 sets of wheel-track type gantry cranes and 11 sets of heavy rail cars to make it possible for 1,600 people to carry out construction simultaneously at peak times.
At the same time, they developed and processed the fixed concrete tanker and improved nearly 2000 sets of precise adjustment tooling, which greatly improved the speed of geometric dimension adjustment and the efficiency of pouring concrete. The track is expected to open to traffic next April.
It is introduced that currently, the construction of main structure in stations of Line 18 such as Fuhualu Station, Olympic Sports Center, Changjiang Eqiao Station, Waiheping North Station, Jianjiacao Station, Qiezixi Station, Baijusi Station, Funiuxi Station, Jin'aoshan Station and Tiaodeng Stations have been completed, while other construction projects progress in an orderly manner.
With the commencement of track laying work, the construction of CRT Line 18 has shifted from civil construction into the final stage of station construction. When the whole line opens to traffic, it will interchange with Line 1, Line 2, Line 5 and Loop Line, realizing the rapid connection between Yuzhong District, Jiulongpo District, Banan District and Dadukou District and further facilitating the travel of residents living along the line. (Translated by Cai Xinyu, Fathom Language Limited)
Editor:Jiang Yiwei