Chongqing News
Crape myrtle flowers bloom for the second time
2022-09-21 10:45:30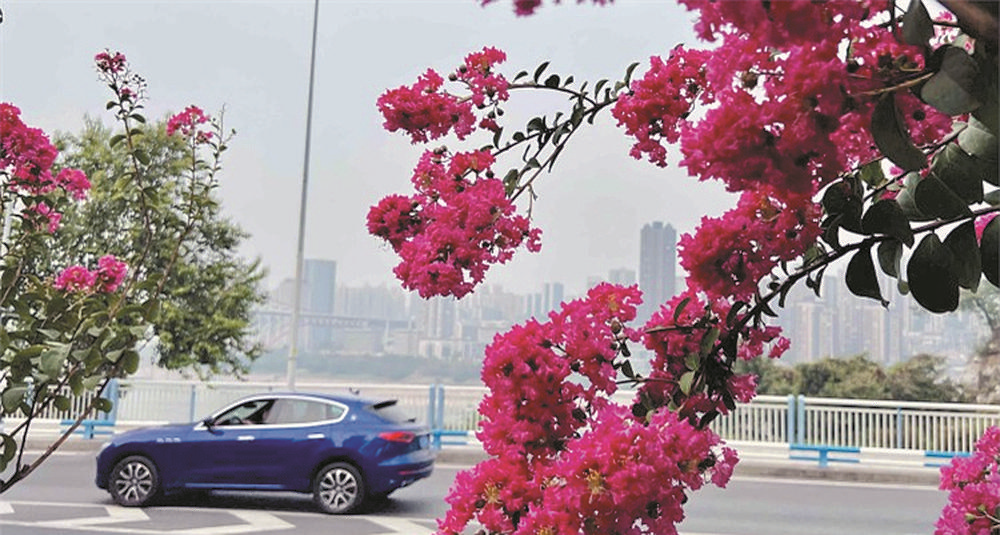 CHONGQING (CQNEWS) -- Recently, the streets of Chongqing are bursting with crape myrtle flowers, making for a beautiful "pink flower belt" for the Mountain City in autumn.
On the morning of September 18, the reporter from Chongqing Morning News saw that crape myrtle flowers were in full bloom in Nanbei Avenue and Wanxiang 1st Road of Jiulongpo District, attracting many citizens who stopped to appreciate.
"They are better than the blossoms in summer!" Ms. Wang, who lives in Huarun Eshisicheng, said that the crape myrtle flowers in the Wanxiang Road had come out beautifully in the summer, but they were not as flourishing as the blossoms today.
Places like Beibin 2nd Road in Jiangbei District and Jiangbeizui Binjiang Square in Jiangbei District are also burst with crape myrtle flowers in full bloom. The reporter learned that it is the second time that the flowers have bloomed this year. They are blooming in a greater number, with more gorgeous flowers.
The peak bloom dates of crape myrtle flowers generally begin from June to September. The urban management department have attempted to create chances for crape myrtle flowers to bloom for the second time by pruning and other techniques, and extend the flowering period to October. However, the amount of blossoms was less than that of the flowers blooming in the first time.
"It is rare for crape myrtle flowers to bloom twice on such a large scale in autumn." Gao Huan, deputy director of Jiangbei District Landscaping Management Office, said that it was a beautiful "accident" that crape myrtle bloomed twice without pruning and other maual means used to promote flowering this year.
Gao Huan explained that the summer was originally the peak bloom period of crape myrtle flowers, but the continuous hot weather this summer affected the normal flowering of the flowers and decreased the amount of blossoms. During this period, the department concerned in Chongqing actively carry out measures to fight against drought and protect seedling, so that the crape myrtle flowers do not feel "thirsty" and accumulate sufficient "energy". For example, the Administration of Urban Management in Jiulongpo District put on a special "life buoy" for the crape myrtle flowers them so that they can absorb the water slowly and get enough water.
During this period when the weather is comfortable, the "energetic" crape myrtle flowers mistakenly think the summer is coming, so they came out for the second time, and thus making for the rare and beautiful "flower boom" in autumn.
(Translated by Cai Xinyu, Fathom Language Limited)
Editor:Jiang Yiwei