Chongqing News
Dianjiang: Smart Park adds "new fun" to citizens' play
2022-10-26 10:11:44
CHONGQING (CQNEWS) -- When you feel thirsty while playing in the park, it will be very comfortable to have a bottle of drink. Recently, in Sanhe Lake Wetland Park, Dianjiang County, Chongqing, a number of vending machines quietly went online to provide convenient services for the citizens.
"Before I came here to play, I brought my own water. After drinking off, I couldn't find a place to buy water. I thought it would be nice if there is a vending machine." Ms. Cheng, a citizen, was very satisfied with the newly launched vending machine. She couldn't wait to take out her mobile phone and scan the code for buying water, and praised "it's too convenient" continuously.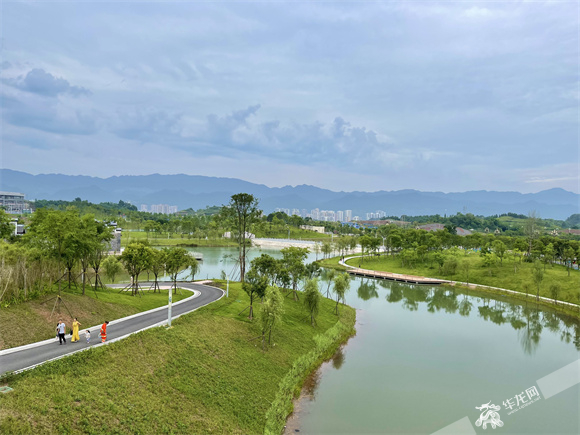 In addition to the convenience brought by vending machines, there are more intelligent devices in Sanhe Lake Wetland Park, which bring different experiences to the citizens.
It is reported that Sanhe Lake Wetland Park, by applying cutting-edge technologies such as 5G, AI, AR, big data, intelligent sensing and Internet of Things, and relying on the original infrastructure of the park, ingeniously embeds intelligent navigation, intelligent movement, intelligent interaction, intelligent spray, intelligent operation, intelligent management and other elements, and strives to create a well-deserved "smart park". Nowadays, modern facilities such as intelligent trails, intelligent cooling fog system, intelligent lockers, intelligent parking lots, interactive game experience screens, unmanned vending machines, etc. are all available, and various intelligent elements such as intelligent navigation screens, tourist housekeeper applets, and park big data management centers will also be launched one after another this month. Later, Sanhe Lake Wetland Park will also open free Wi-Fi to further ensure that tourists have a fun, rest assured and worry-free time. (Translated by Xu Hong, Fathom Language Limited)
Editor:Jiang Yiwei