Chongqing News
A post-90s man aspires to paint all over China and his stop is here in Chongqing now
2022-10-26 14:26:55
CHONGQING (CQNEWS) -- In Fengdu, Chongqing, under the plaque of "world famous mountains", a young man in a black leather jacket, with somewhat dark skin, squatted down and spread out the 100-meter-long scroll on the ground. Immediately, he took out a brush from his bag and began to paint... There were many landmark buildings of Chongqing in his scrolls, such as Yunyang Mopan Village, Wanzhou Bell Tower, Fengjie Baidicheng.
This young man is Zhai Yunchuan, a 32-year-old native of Suining, Sichuan. Since 2017, he was determined to paint all over China and so far, he has been to more than 100 provinces including Guangdong, Guangxi, Guizhou, Yunnan, Chongqing ... A few days ago, the topic that "A post-90s man painted various landmarks of Chongqing" was heatedly discussed online, so the reporter contacted him to learn the story about this painter.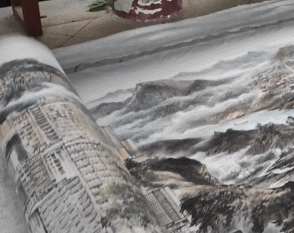 A dream in his heart
Paint a "Riverside Scene at Qingming Festival" of his own
Zhai told us that when he was 13 years old, he move to Fujian with his mother because his parents divorced. It was at that time that he started to learn painting. With a dream of painting in his heart, Zhai happened to learn painting from a teacher for three years.
Once he saw the video of "Riverside Scene at Qingming Festival" online, and he wonder if he was able to produce such a painting. When he was able to leave, his teacher asked him what he wanted to paint in the future.
"I want to paint all over China and produce a long picture scroll like 'Riverside Scene at Qingming Festival'," Zhai blurted out. The teacher said it was impossible, and believed he was daydreaming.
After graduation, Zhai Yunchuan had no chance to pick up his brush again. For ten years, he had been leading a busy life, working at the construction site, applying screen protector for phones... However, he never gave up the dream of painting, and he spend every possible moment teaching himself how to paint a landscape painting.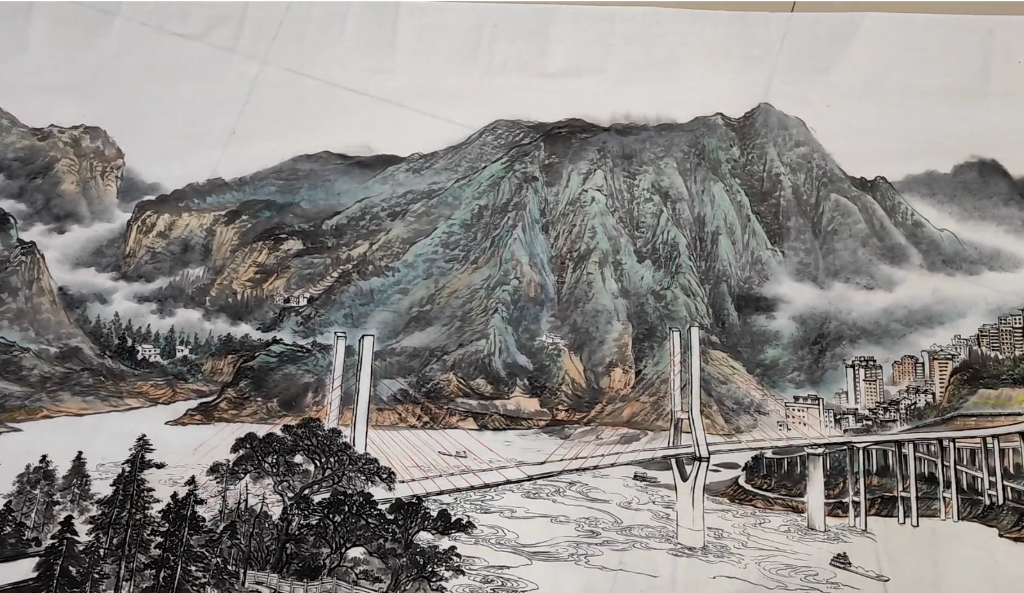 Walking home
With a view to creating a painting
After the New Year in 2017, he decided to end his part-time jobs and return to Sichuan, so unbeknown to his wife he set off from Shenzhen with a bicycle. Before he could go far, however, the bike broke down and had no choice but to sell the bike for 66 yuan.
Without a bicycle, he walked back to Sichuan with his feet, and painted a picture along the way. During this period, his wife in Sichuan believed that Zhai Yunchuan was still working in Shenzhen, and she never thought that her husband had started his travel on foot.
When Zhai Yunchuan arrived in Sichuan and was reported by the local TV station, his wife learned that he had walked back to Sichuan from Shenzhen on foot for painting. When she met Zhai Yunchuan, she found this unkempt man with a broken foot and a cut on his arm. She cried, but Zhai Yunchuan smiled, as there was a joy in his heart that he had never had before.
Later, he named his painting "The Beautiful Way to Home".
Since then, his wife opposed Zhai's going out for painting, thinking it was too dangerous. Zhai persuasively kept badgering his wife to allow him to paint for more than half a year and finally, he succeeded.
For safety's sake, the couple borrowed some money from relatives and bought a car, so that Zhai began his "wonderful journey".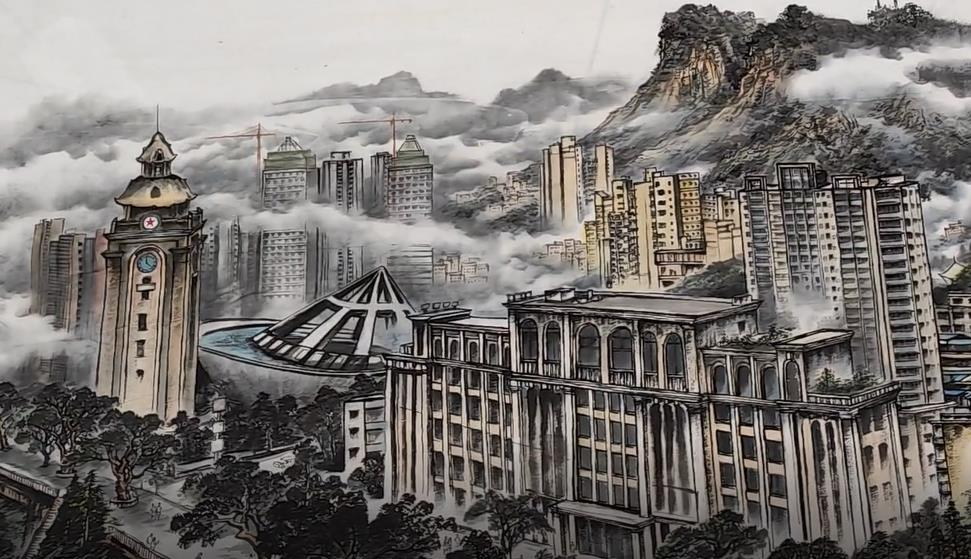 Lost in the mountains, taking wild growing fern for food...
But he made his internal life fulfilling
In 2021, Zhai Yunchuan set out from the headwaters area of the Yellow River in Qinghai and drove himself to Shandong, the estuary of the Yellow River. For a year, he painted the beautiful scenery of the provinces alongside the Yellow River flows, and named the 150-meter-long painting "The Magnificent Yellow River".
There were people who was willing to pay a high price for "The Magnificent Yellow River", and cultural centers who wanted to collect the painting. Zhai Yunchuan thought and thought, and he finally donated the painting to the Yellow River Branch of the Chinese Local Records Museum.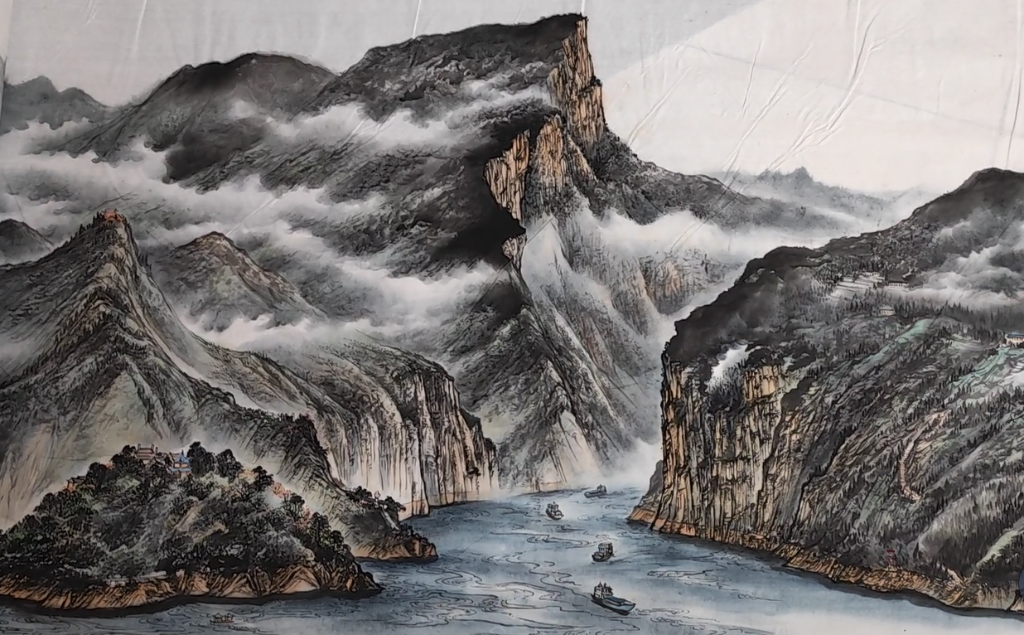 Early this year, Zhai Yunchuan set out from Shanghai to Sichuan, with a view to painting the scenery along the Yangtze River. He named the painting "Splendid China · Yangtze River", which is expected to be 200 meters in length. So far, a 150-meter-long painting has been completed.
At present, Zhai Yunchuan has arrived in Fengdu, Chongqing.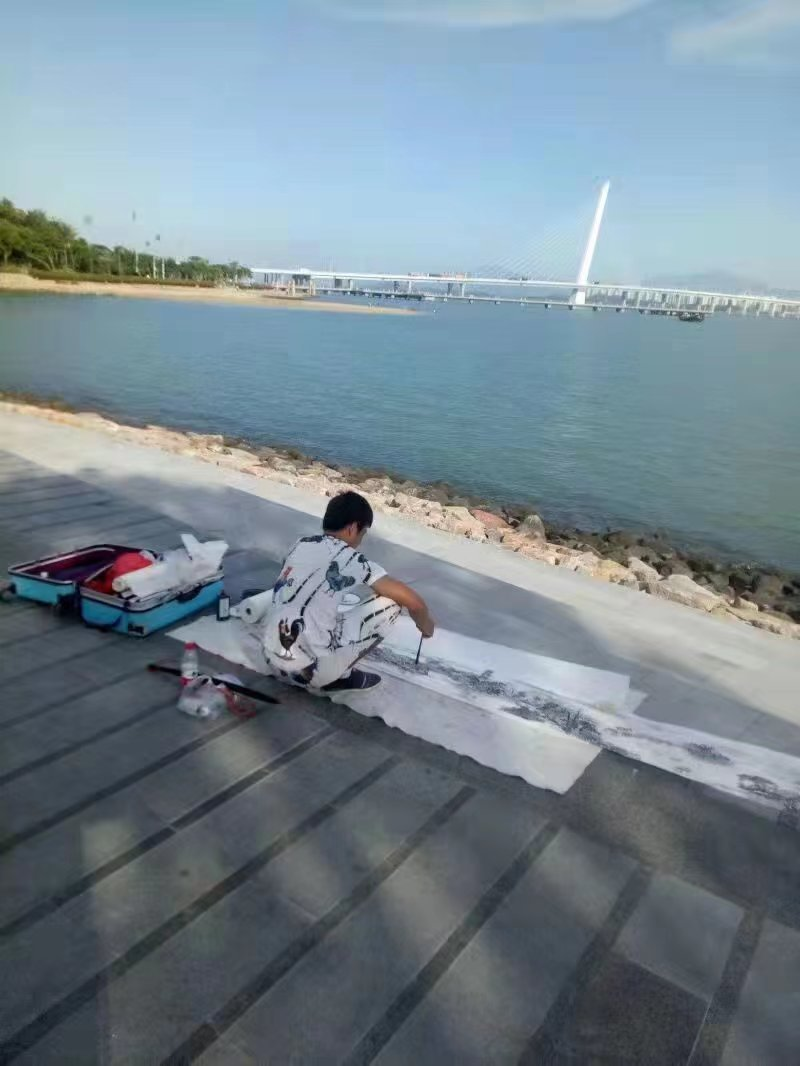 In addition to the gorgeous scenery, there were also thrilling moments during the journey. In Guizhou, Zhai Yunchuan broke his foot, and almost fell off a 200-meter-high cliff; he also got lost on the mountain and took wild growing fern for food for two days.
Of course, the journey was filled with more heartwarming moments. Many netizens contacted him and sent him food and drinks when they saw his video. Zhai Yunchuan also relies on the proceeds from selling his works of calligraphy, paintings, or making live videos for travel expenses.
"Chongqing is a wonderful city with lush hills and lucid water. I like it so much!" Zhai Yunchuan told the reporter that as soon as he arrived Chongqing, he felt the inclusiveness of Chongqing's culture and the hospitality of its people.
When he arrived in Wanzhou, Chongqing, Zhai Yunchuan found an open space and set up a tent to sleep. A few local netizens learned about it, and they brought some Wanzhou grilled fish to come to see him. They spent a night eating grilled fish, drinking and having some long conversations.
Zhai smiled and scratched his head, saying, "no matter how hard the journey is, I feel extremely happy and fulfilling as long as I can paint."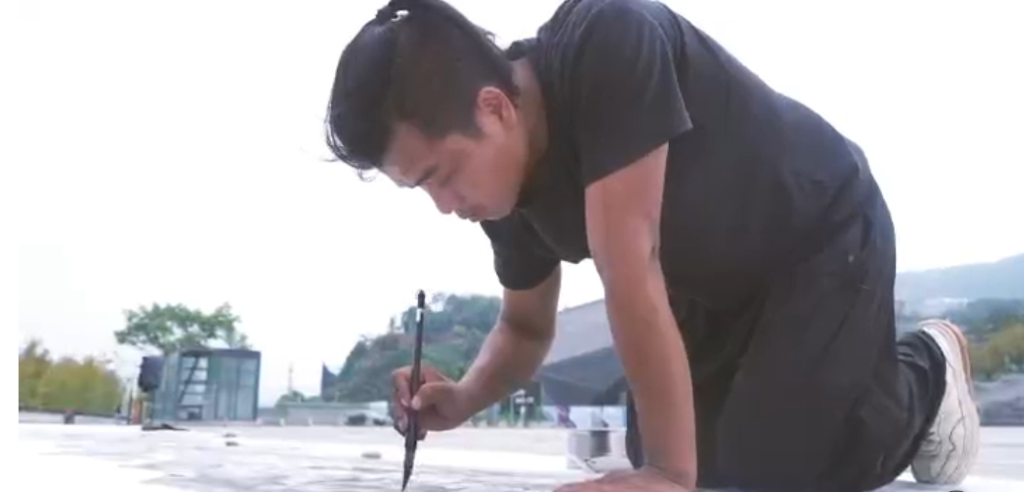 The brush danced on the paper
It's never too late to have a "dream" in your heart
Talking about the future, Zhai Yunchuan said, "I will definitely continue to paint. I want to paint a 2500-meter-long picture and break the Guinness record!" Next year, he will start painting the landscapes of various provinces. The current work "Splendid China · Yangtze River" is part of "Splendid China", and he hopes to donate it to a museum on its completion.
In addition to painting, Zhai Yunchuan has another dream in his heart, "If possible, I want to further my study in painting at the Sichuan Fine Arts Institute or other places."
"It's okay if the dream cant come true. What matters most is that I have already set out on the road. It's never too late to have a dream in your heart" After saying that, Zhai Yunchuan lowered his head and continued to paint... (Translated by Cai Xinyu, Fathom Language Limited)
Editor:Jiang Yiwei