Chongqing News
Chongqing's first park-style marriage registration institute is expected to be completed by the end of this year
2022-10-27 10:04:18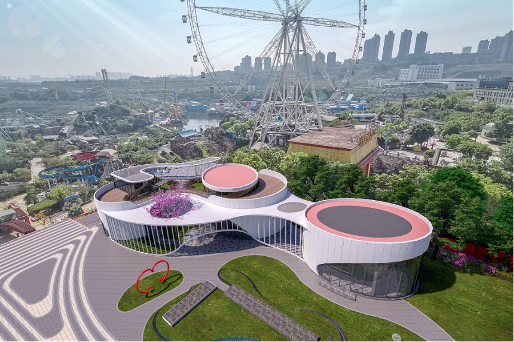 CHONGQING (CQNEWS) -- According to the Social Security Bureau of Liangjiang New Area, the construction of the marriage registration center at Happy Valley in Liangjiang New Area is progressing successfully: the roof of the main building has been capped, and the workers are gearing up to complete the construction at the end of this year.
The center covers a total construction area of 934 square meters, with the main building featuring a shape of heart that means eternal love. The facade of the building is colored red and white, signifying the purified and burning love.
Since the launch of the project, OCT Industrial Company has completed the design of the site in accordance with the standards for a 5A-level marriage registration institution and actively pushed forward the construction. The Social Security Bureau of Liangjiang New Area has completed the recruitment of staff and the procurement of equipment; all preparations are progressing steadily.
Dan Tangwen, the party secretary and director of the Social Security Bureau (Veterans Affairs Bureau) of Liangjiang New Area, said that with a view to building an "upgraded version" of the new modern area, the Social Security Bureau of Liangjiang New Area will speed up the construction and build the marriage registration center at Happy Valley into an efficient, fashionable and unique marriage registration institute that offers satisfying services and allows the general public to feel the charm of high-quality living demonstration area in Liangjiang New Area. (Translated by Cai Xinyu, Fathom Language Limited)
Editor:Jiang Yiwei